We must be getting close to the amygdala by now!
If you battle monsters, you don't ALWAYS become a monster. But you aren't entirely human anymore, either.
10/9/16
Start!
1/2pep 15*level XP
Paul takes a moment to award post XP!
Cluddox Ding!
Down or Courtyard?
We go to the small door in the corner of the first room.
Cesar check for traps. Nope. Locked? Nope. Opens into a courtyard.
Exercise yard. Clumps of grass. Places are stained with blood. 2 dead gobbos to the north lie slumped against the entrance to an outbuilding. The door to the outbuilding has been nailed shut, and extra boards nailed over that. As Cesar gets close something inside ::snorts:: at him!
He thinks it's a horse. We can't see in very well.
Another debate. "We are not leaving this horse here."
Let it go? Wait? We'll come back for it.
To the south door. No traps. Open. Storage. Tools, net, tack, harness. In one corner is a cage containing several rabbits. Quick search reveals nothing of particular value.
North door. No traps. Not locked. Open. Hallway with a door at the far end. Check the door. No traps. No locks. Open: Another short hallway with two more doors. North and south.
South door. No traps. No locks. Open: A small meeting room. Round table and chairs. Quick check. No value. Turn around to the north door. No traps. No locks. Open: Another short hallway.
North door and south door. South door is a reeking hole in the ground. Close it up again!
Northmost door… Stairway down. Door at the end.
Down this one or the other? We go down here.
Fitted worked stone. Pretty old. Definitely not gobbo work. No weathering on the door below. Cesar searches. Take 20 search and listen. Perception 26. He doesn't note anything.
:: Camlo is not being a dick to the ranger in this scene. ::
We are looking at a large table with chairs. Nice rug. Slateboard to the north with a map of Sandpoint on the north wall tells us what the room is for. No people. Two more doors exit the room.  The smart people look at the myriad notes on the board. They confirm this is the raid. "Once the whispering beast is tamed, we will conduct an additional raid consisting of even more goblin tribes from across Varisia, and something called Sinspawn attacking from below."
We check the table quick. No value.
East or west door? West. Traps? No. Locks? No. Push it open. CLUNK! Something is in the way. A few of us hear a female curse from the other side. Cesar tells Cluddox to smash. No go. From over the sound of the smashing. Cluddox and Cesar get into a little "talk" over what Clud doesn't hear. A 21 str doesn't get it open. Camlo helps and it still wont open.
We change tactics and Cluddox gets out the big squishy. Power attack. 2 hits and...
HERE'S JOHNNY!
A large wooden table centers this room. It's now upside down. A pile of strange magic/spell/ancient bits and components piled on the floor. To the north a floor to ceiling shelving holds a set of tools needed for an archaeological dig.
The door on the far side is open leading down some more. Just down the stairs is a dark skinned lady in robes. Long hair in cornrows. Lyrie Akenja. (we don't know her name just yet)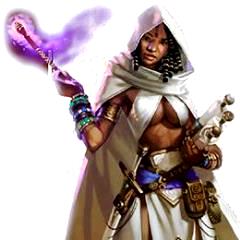 Init.
"Bruthasmus, you asshole. THEY'RE COMING IN THE BACK WAY!"
Camlo: 5' and 2 shots. She's got cover. 1hit 8dmg 2miss
Sol: Draw wand of Heal
Cesar: Move and try to tumble thru her. Fail but she is flat footed so, no AOO. He attacks 1miss
Sha: Move and shoot. 1hit -1 image
Cluddox: Move and Power attack 1miss
Chano: Move and Lazor 1hit -1image
She: Withdraws down the spiral stairs.
Camlo: Move straight to the first curve in the stairs. There is light down there. Doesn't see anyone. More down. He continues. And she is right around the corner in the middle of opening a door!
The worked stone is strangely dark and angled. The floor he can peek into is even tilted!
Camlo tries to tumble past her to get in front. He fails and she gets an AOO: 1crit 4dmg.
"Clud, Cesar, get down here!"
Sol: Follows down the steps.
Cesar: Move to the corner and try to tumble past her. He gets past for flank! Double move. "Don't move!"
Her: "Alright. I give up. Don't hurt me!
Sha: Move down the stairs.
Clud: Looks and sees a line of asses. He just waits at the top.
Chano: Gets in line. "Did you get her?"
Camlo: Points an arrow at her eye.
Out of init.
Looking around the room. Two pillars support the roof. Alcoves contain damages statues of a man clutching a book and holding a glaive. The entire room is canted toward the west. The statues are leaning.
We order her to drop.
Us: Where are your friends?
Her: The bugbear is still on the level above. The lady who hired me is on this level and you probably shouldn't mess with her. There are Yeth-hounds in the chapel above and she probably has some with her.
Yeth hound = evil, extraplanar, LARGE doglike thing. It's howl can panic. Bite and howl are fear causing, and they can fly!
Her: My name is Lyrie Akenja and I was hired because I know Thassilonian. The other woman's name is Nualia. She is trying to contact something here that speaks to her. Buried in one of these lower levels.
Chano picks up the loots she dropped. Scrolls, potions, dagger, wand. Her hood is up and we see something moving inside! She opens it to reveal her cat. HISS!!!
We discuss her fate in front of her…
She claims to not have enough stake in all this to rejoin her evil organization. Do we believe her?
~~~~~~~~~~~~~~~~~~~~~~~~~~~~~~~~~~~~~~~
Paul rules that using Intimidate is, essentially, an evil act. As we are, ostensibly, not evil, we would never truly follow through on any threats of violence that would be part and parcel of an intimidation encounter. Therefore, each failed Intimidate check to influence behavior (which isn't followed by violence) will result in word and rumor spreading of how Sandpoint's Fastboys don't have the steel to follow up on their threats. This will be represented by an unknown penalty to all future Intimidate checks accumulating for each failed roll.
~~~~~~~~~~~~~~~~~~~~~~~~~~~~~~~~~~~~~~~
Solomon begins to try to get to know her before getting her to leave. "You understand we are going to bring justice of your employers?" "You don't want to associate with these people just for magical research." Joe spends a pep on sense motive. Nope. Diplomacy to move her from hostile. Another pep results in 12. He's not getting a ton of info. We got her name. She's some sort of magic user. Her skill is about 3rd level wizard. She's from Magnimar. She seems to hate the famous Pathfinder society for some reason. She doesn't know enough about the area to help too much. Solomon's sense motive tells him that she's holding back but he can't get her to talk more.
Solomon moves on to trying to get her to leave. He's using intimidate. He spends a pep. Joe's RP doesn't inspire any circumstance bonus. Solomon's sense motive to her positive response is that he's confident she has no intention of coming back. The rest of us agree to wildly varying degrees.
Lyrie is escorted to the ground floor and we watch her go through the first double door.
A few of us notice her glance at the door to the stairs down and consider something for a moment. She then goes on and we watch her walk across the bridge.
We go back to Lyrie's research room and begin to poke around. Chano wants to check it out. The pieces are clearly from the level below. Bits and rubbings. Strange spiky runes. Notes and commentary are written down. Chano sees the notes are in the style of Pathfinder Society teachings on old Thassalonian. Chano also notes the "tone" of the Pathfinder notes seems to be "Fuck you guys." The level we're on was constructed by cultists of Lamashtu about 200 years ago. The level below should be older. He notes they haven't completed their explorations. There are notes of things they haven't found. We could procure two miner's kits worth of tools from the shelving. No one makes a move for it. Chano collects the notes. He also finds at scribble from Lyrie that indicates she thinks the reason the island resembles a head is because it's the head of an old Thassalonian statue!
We turn around to the other door in the conference room. Traps and locks: nothing. It opens into a hallway ending in another door. Same routine for this door. Here we go!
The lower 4 feet of each wall are covered in crude drawings of mud, blood, and other… materials. Showing what can only be goblins engaged in horrible acts against… we have a hard time telling what the art is supposed to depict. One picture, much larger and better artwork shows Thistletop from the side. A depiction of an immense gobblin is inside. By scale it must be 30' tall… Something important down here? We figured that anyway.
Next door on the other side of the room.
A long hallway even lit with torches. Paths to the left and right and a door on the far end. Double doors to the right with depictions of demons doing horrible things. (like they do) To the left is a long hallway leading into darkness. Sha goes to look. Rough hewn caves. Wait. She sees a light. Seems to open to the outside. It's getting dark but she can hear waves. We continue east to the outside. The rocks are strangely smoothe. A curtain of vines and nettles hang over a large opening to the Varisian coast. Cesar continues and peeks around an alcove to the left.
It seems to continue into another passage. It leads to a room with dozens of strange dead bodies. Sea birds and animals as well as a few goblins. Cesar notes they are oddly flat…?
Spider Sense is tingling!
Cesar takes it 5' square by 5' square. He's safe. Each body is literally skin and bones. There is nothing inside them!
Cesar calls Chano up but he needs to get closer. Cesar begins searching the squares again to lead Chano to a body. Almost there and…
Splat! It falls from the ceiling.
Init!
Surprise round!
Camlo: surprised
Shalelu: surprised
Cesar: 5' and stab 1hit 16dmg
Solomon: surprised
Chano: surprised
Cluddox: surprised
It: tenticle for Cesar 1hit 6dmg Improved Grab? Hit, he is grappled
Camlo: Move shoot. 1miss Spends a pep to not hit Cesar. Cesar takes 9dmg
Sha: Double move into room.
Cesar: Attack with katana. 1miss
Sol: Double move into room
Chano: Moves up Quarterstaff 1miss
It's a Tentamort. An aberration. Poison stinger which causes liquefaction! Ambush predators! Two tentacles. One restricts and the other stings. Mostly mindless. Animal judgment.
Clud: Double move. Flank with Chano.
It: Squish. 6dmg Poke with pokey thing. 1hit Fort save for Cesar: He's good. Cesar is staggered.
Camlo: Drop bow. Move up with longsword. 1hit 7dmg
Sha: Drop bow. Move up with longsword. 1miss
Cesar: Staggered. What can he do? Free action to draw potion. Grapple check. Fail. He delays
Sol: Peps to hit Cesar with CLW. Above 0
Back to Cesar: Stab. 1miss
Chano: Draw wand. Shocking grasp. 1hit 10dmg
Cluddox: 5' step 1hit 12dmg
It: Squeeze Cesar 1hit 6dmg Poke 1miss Another fort save Good.
Camlo: Attack 1miss
Sha: Swing 1hit 10dmg Dead!
Solomon slaps Cesar with a few wand CLW
XP
Lyrie 3rd: 128, 4th: 112
Tentamort 3rd: 228, 4th: 204
Chano harvests.
We lootwhore the bodies. One of the gobbos is wearing masterwork Hide armor. Made of dog leather. (its magical) Masterwork Dogslicer. Masterwork Shortbow.
Cesar also searches the tentamort. Nothing. Do we search the room? No. This doesn't seem to collect treasure. Too much time.
3 for group food. Mike is walking to Culver's
Chano is IDing the items from Lyrie. In the items he finds bits of fingernails, hair, and used handkerchiefs. The hair actually matches Ameiko.   ...or perhaps Tsuto? We're not even sure...
Where do we go? Closer to the outside. Nothing in the large entrance but another passage heading further south. Cesar continues searching each square. Crates barrels and mounds of refuse. A lot of junk. Shalelu notes this is their junkpile storage stolen from Sandpoint's garbage. A passage to the west. We continue without searching.
The passage turns back into worked stone and ends in a door. No traps. No locks. Open:
A single lantern hangs on a hook near the stairs up. Several doors and old dog pelts clutter the floor. Cesar checks the pelts. Nothing interesting. We're pretty sure the stairs are the ones we passed above.
Solomon and Camlo notice shrieking and giggling coming from a southern door. Perception tells Solomon that it's female laughing and some male voice. The rest tell Cluddox to wait. We set up with Camlo at the ready. BANG!
The room smells of body odor, vinegar, and strangely rotting flowers. At the far end of the room is a large Bugbear being serviced by four horribly ugly goblin women.
Init.
Surprise round!
Camlo: Shoot 1miss
Clud: Move up to melee.
Cesar: Move up to melee.
Solomon: Wand out.
Bruthazmus: Stands with a dire flail from under some pillows. AOOs Cesar: 1miss Clud: 1hit 9dmg
Sha: Shoot: 1hit 7dmg
Chano: Move to view
Normal Round
Camlo: 1miss
Clud: Power attack 1miss
Cesar: 1miss
Sol: Move up. Touch of flame. 1hit 7fire
Bruth: Heavy flail to fire guy's face. 1hit 11dmg 2miss
Sha: 5' and shoot 1hit 8dmg 2miss
Chano: Ray of Frost 1hit 3frost
Camlo: 1miss
Clud: Swing 1miss
Cesar: 1miss
Sol: 5' step. Touch self. CLW
Bruth: follows Solomon 5' 1hit 11dmg 2miss
Sha: 1miss 2miss
Chano: Ray 1hit 2dmg
Camlo: 1miss
Clud: 1hit 18dmg
Cesar: swing 1miss
Sol: Flame again 1hit 4fire
Bruth: "Die, you!" 1hit 12dmg on clud 2hit 9dmg
Sha: Shoot 1hit 4dmg 2miss
Chano: Ray 1hit 1dmg
Camlo: Move. Shoot 1hit 8dmg Dead!
Out of combat. Round by round. Cesar stuffs a CLW potion down Solomon's neck. He's conscious. We note that Bruthazmus has stabilized. Solomon changes that. While Cesar complains about his clean sword, Camlo stomps in, collects his arrows, and stomps out. We chase the goblin women out. We note the vinegar and rotten flower smell leaves with the gobbos. Searching the room only yields strange stains on the furniture. We loot Bruthazmus. Plain armor. Plain Dire flail. Masterwork +4 Strength Composite Longbow! We give it to Shalelu. She might keep it as a trophy. She isn't going to use it, though.
Next door. Hallway heading south then west. Light source at the end.
We check the next door. Plain again. Open: Wall are lined with small wooden cages. Wads of straw on the bottom each holding what must be small goblin babies! A few snap and snarl at us. Cesar just closes the door…
That's the 3 south doors. Clud guards the hall and Cesar checks the west door. Door's clear. Hallway ending in a door. Close that door, let's go south. Cluddox takes the lead this time. Turn a corner for a hallway with 5 doors. First on right. No traps. No lock.
Open: 1 person bedroom. Bread and smoked salmon half eaten. Medium sized dirty clothes. Search reveals nothing of value. Probably humanoid male. Not gobbo.
Across the hall door. Same shtick. Open: Faint musty odor. Grey and black hair. Stack of bird feet beside the bed. No value either. Cluddox notes the hair color matches the bugbear.
Next door to the north. Clean and neat. A desk holds a stack of paper. A well made bed. The papers are rough drafts of letters in Tsuto's strange homeland scrawl. We can't make it out.
Door across the hall. Same deal. Clean and lit by an everburning torch. Spartan quarters make us wonder if it's a bedroom. No value. Cesar grabs the Everburning Torch.
Door at the end. We detect no traps or locks. Ready? Open: Large chamber. To the north is fine bed with silk sheets. To the south desk with nice atmosphere. Search reveals nothing. Cluddox is messing with the silk sheets…
Back to the short hallway from the stair room. Door is same. Open: Souther wall is a bank of cells. The rest is obviously a torture chamber. Rack. Iron Maiden Cage over a fire pit. The works. Thankfully we find no prisoners. Two doors leading out. We find nothing hidden or useful.
North door in the corner. No traps. No locks. Open: Short hallway with a door on the end; east wall. Similar check. Open into a dusty nest of rags, dog hide, and straw. Hooks, tongs, saws, knives hang on the wall. Guess: A torture worker liked to sleep with his tools. We easily find several keys mixed in with the tools.
Back to the north-west door. Same routine. Short hallway of stairs up at a steep angle. The door at the far end is made of stone! Cesar checks. No traps. No locks. But he hears something growling behind the door.
We get ready to surprise. Clud and Sol switch. Cluddox bursts in.
Stone fonts with frothy dark water line the east entrance. Twin lines of pillars run the length of the room from the double doors. Small stairs lead to a raised platform. Bass relief of countless monsters feasting on humans lines most of the walls. A black altar with burnt offerings and ash sit at the head of the room. A statue of a pregnant but otherwise otherworldly human holding a kukri in each hand. One of fire and one of ice. Smoking torches add to the ambiance. Two very large demon dogs await our entrance. One sniffing at our chosen door means we get no surprise. The other one is flying. Y'know. FYI.
Init.
Camlo: Delay
Hound 2: Howls in Clud's face! Will save. Cesar is panicked!
Solomon: Delay
Sha: Delay
Cesar: Run like a little girl.
Clud: 5' Swing 1hit 14dmg
Camlo: Undelay Move in and Shoot Y1 in the air. 1hit 5dmg
Hound 1: Howl! We all save. Move and land by Y2
Sha: Undelay Move to hallway Shoot at Y1 1miss
Chano: Double move after Cesar.
Y2: 5' bite clud 1miss
Sol: Move behind Sha
Cesar: Run. AOO from Chano. Trip attempt: Success! Cesar is prone. Second move action to stand.
Clud: Rage 1hit 15dmg
Camlo: Jump down as normal move. AOO 1hit 10dmg Bite causes Will save vs fear. Shoot back 1miss
Y1 5' to flank 1crit 19dmg Fear save is good
Sha: Delay to swap with Sol
Chano: Grapple Cesar. No weapon/No AOO 1hit and CMD is good. The wizard grabs him!
Paul says the grapple can qualify as cornered so he cowers there.
Y2: On Clud 1hit 5dmg Save? Good
Sol: Switch with Sha and Heal on Cluddox. 8 HP.
Sha: takes a shot 1hit 3dmg
Cesar: Cower. Total Defense
Cluddox: Spend pep Power Attack 1hit 25dmg Dead!
Camlo: 5' Shoot X2 1hit 9dmg 2miss
Y1: 5' and bite 1miss
Chano: Cmb Cesar is pinned. Gets ready to wrap Cesar up with his chain link scarf.
Sol: 5' and Heal Clud 9HP
Sha: 5' 1miss 2hit 3dmg
Cesar: Struggle 
Clud: 1hit 16dmg
Camlo: shoots 1hit 11dmg Dead. He shoots it again.
Chano drags Cesar back and Solomon passes out the healing. Shalelu walks into the temple to avoid the stupid. Cesar feels a little jump of fear again as he walks in the temple and Cluddox finds his fatigue time is halved.
What do we search? Statue. Alter. Bas Relief. Doors.
Statue: 28 search. Nothing hidden or valuable. The weapons appear to be only colored Continual Flame.
Altar: Nothing secret or hidden. On it are smears of ash and bits of bone. A recently burned body.
The frothing water: Solomon detects low necromancy in the entire room, but not the two fonts. The dark frothing water appears actually rancid but not interesting. We don't touch the water.
The double doors lead to the hallway as predicted.
Chano harvests the Yeth-Hounds as we search.
We confirm the stairway up.
XP:
Bruthasmus 3rd: 268, 4th: 240
Yeth Hounds 3rd: 360, 4th: 320
We head back down to the slanted room.
Ancient grime and soot. The feeling of foreboding is now ever present. The statues still lean. Whatever ancient upheaval still shows here. A hooded lantern on a hook near our stairs. The statues hold the same book as before but we don't recognise the man represented.
Search? Nothing of value with a decent search.
Move across the room to the door. Feels like we're sinking, or going deeper. Quick search of the door. Nothing. Open the door. Another short hallway. Slopes down to the east. 5' from our door and the floor is polished. Two statues in alcoves, north and south, line the hall. Stern man with a glaive. Glares down at the space between themselves. The eastern end are two stone doors, north and south, each with strange runes. Between is another alcove with a broken statue missing from the waist up.
Cesar begins checking 5' steps. As he gets between the statues, two portcullis drop down on either side of him. Pep the reflex save. He makes it!  Suddenly the glaives begin to twirl in the prison trap! Then the floor drops out!!! Soon everything goes back to normal and we hear a door open down the hall.
XP
Trap 3rd: 120 4th: 120
End!
Paul PEPs
½ pep Mike keeping things moving
½ pep Brian for amusing ninja antics
½ pep Kevin hitting on Shalelu
½ pep end 15*level XP
Brian: ½ to Eric and Kevin for battle
Kevin: ½ to Joe for Bruth visual ½ to Eric for Cluddox RP
Eric: ½ to Mike and Brian for the chase scene
Mike: ½ to Brian for the save ½ to Joe for trying to flank
Joe: ½ to Mike for taking and dealing damage ½ to Kevin for Damage
Next week: 10/16 We should be here. Joe may be hanging hard, but he'll try.
This entry was posted by
kevin
and is filed under
Announcements
.
1 comment