We Knew the City Was Full of Action. But We Thought We Would Last a Day Before Being Dragged In Front of the Judge!
But a city is more than a place in space. It is a drama in time.
1/21/2018
Start
½ PEP
15*level XP
Quick recap for Eric!
Alabaster district: The richest northern side. Also called the marble district. Alabaster park. Serpents run. Heidmarch manor. This branch of the pathfinders. Richest and most affluent citizens. And their support staff. Few shops and stores. Marble laid walls separate the district. The upper area is mostly military family. Also the Kaijitsu family.
Naos district: Mix of well to do inhabitants. Dozens of shops and stalls. Magic to monkeys. Roads are paved cobblestones.
Lets revisit Magnimar living expenses!!! Upper cleft = 20gp/week Lower cleft = 12gp/week.
½ take 10 on appraise will lower this.
Magnimar: Pop 16,000 most human also halfling dwarf elf half-elves etc. 75000 purchase limit 8th level spellcasters.  
Early afternoon August 14th:
To Kaijitsu villa! We head to Naos district. We turn left. From the sea cleft we can see a massive estate dwarfing the others around it. #27 is the home of Lord Mayor Haldmeer Grobaras.
As we approach Kajitsu manor, it's a fairly small compared to the others. There is a walled gate. Standing outside our destination is 4 city guards! We didn't notice this anywhere else.
Cezar approaches the guards.
G: Yes?
C: Hesitates.
G: No deliveries. Move along
C: Mrs: Kaijitsu has offered us use of the estate during our stay.
G: Looks a little confused. "Your stay is allowed by the family? And this is Amiko? And she's in Sandpoint?
C: As of three days ago.
G: Wait here.
He goes off and discusses with his fellows.
We overhear that there are already family here. "We gotta go get Krogan!"
He comes back.
This will have to be reviewed. Can you come back in an hour?
C: What's the problem? Cezar PEPs an intimidate. 21
Guard: I'm really sorry but there is already a house arrest for one of the family.
Us: Tsuto!!!
We question him about the guards in the house. He ends up looking pretty upset about what might be the end of their meal ticket. While mumbling about our arrival to each other, Chano overhears them discuss allowing a dark skinned woman and armored warrior into the manor last week! (Lyrie Akenja and Orik Vancaskerkin)
Us: Shit!!!
We spend our hour selling our useless magic items. Different areas of the town have different risk factors with our money. Some K. Local will help us find the right district.
Cezar spends the hour watching the front with his hat of disguise. Nothing of note.
The nearby monument is a stop on our hour of exploration. Indros cul Vydararch. A legendary battle between the invaders and Indros. A few of us learn that there is a boon associated with this one. Morale bonus against creatures with an aquatic subtype. No clue how to activate it.
We meet up and peek at the guards but we see no captain. The guy that ran off has come back.
Cezar approaches them again. They seem to tense up again.
G: Umm… Uh, yeah. I'm sure, he'll he'll uh be along shortly.
Us: We know they're lies. And they will just keep stonewalling us.
Sol: Where is your captain?
G: The local precinct is across from the mayors estate.
Sol: And he reports to?
G: Uh… not sure. The head of the guard is at Fort Indros.
We discuss. Before long two more guards come and chat with the original four and they point to us. The two come on over, eyes on Cezar.
NewG: You come in with a group from Sandpoint? Someone wants to speak with you. Justice Ironbriar?
Magnimar has a mayor and then a council of ushers. Justices are the judges and magistrates of the law side. There are only 4 Justices. Ironbriar is one of the only elves in this branch of government. We think we know where his office is.
We decide to follow. They don't lead us all the way to the main building. We find an office in the Alabaster district.
He asks us to check our weapons. We do. Then we are brought to Ironbriar's office. It is expensive and opulent.
He rises with a dour expression. Middle aged for an elf. Perhaps 300 years old. He welcomes us to the town.
I: You are the Sandpoint Fastbois? You were summoned because of the symbol you are wearing. A seven point star?
C: Shows the amulet.
I: How did you come to own this?
C: In the course of our service, we recovered it in an ancient temple.
I: You were involved with the Kijitsu family and a goblin attack?
C: Yes.
I: We have some info from Sheriff Hemlock and reports of Thistletop.
C: SPILLS ALL!!!
I: This came from Nualia.
Sol: Why is Tsuto kept under house arrest?
I: WHAT!!?!
Us: Exposition…
I: I will be following up on this.
I: The real reason you are here is because we have found this 7 point star carved on murders across town. Having learned of your arrival today we figure it wasn't you.
We $exposition Aldern Foxglove.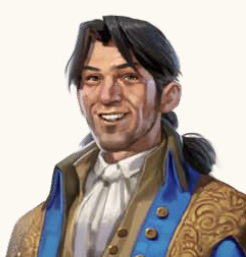 I: You are here to investigate this?
Us: We provide the letter found in Foxglove Manor. And mention the Brothers of Seven.
I: Magnimar has criminals but we are experiencing something akin to Sandpoints trials.
I: I'd like to ask you to be involved with us a little more. You are least likely to be responsible. Please report back. I will provide contacts and drop boxes. I will have you leave as you came; a visiting adventuring group. Hopefully you will find about Tsuto and he is only just bribing guards.
In the meantime, we don't have a lot of evidence, and because of politics, not a lot of clues. At the very least, thanks for what you have done so far.
We have a $place to drop stuff off.
We find an inn to sleep at/in/on/under/etc.
The wizard continues wandering and trying to get a lay of the different districts to help our buy/sell situation. Cezar goes back to spy on the manor proceedings.
8:00 some new guards arrive with a paddy wagon and there is a kerfuffle at the gate and soon they go inside leaving new guards to watch the gate. Soon Cezar can't see anything and the itch starts.
He ninjas his way inside. Finds a bird's eye view of the lecturing of the old guards. A bunch head inside and there is a little comotion. What comes out are more guards, not in full uniform - looking drunk, followed by Lyrie, Orik, and finally Tsuto! There is a little vinegar but the guards take no shit.
Soon everyone is cleared out. The final guard locks the gate and split with their final orders.
Cezar follows the paddy wagon up to Fort Indros until it's right through the gates. Cezar salutes no one in particular and heads back to the inn.
Outside our living expenses, us rubes run the risk of overspending in the big city. Only Solomon spends and extra 10gp. He doesn't tell us her name.
Aug. 15
We head to Kaijitsu manor. It's a bit of a mess. It seems father's main bedroom has been especially trashed. Burned even. One or two of us note that some paperwork in the office has been hastily set on fire. Clear signs that one room was Orik's. It has a rough training dummy with chips out of it.
Chano is trying to piece the papers back together. Not a lot is left but he thinks he find instruction to walk a certain number of paces from a tree. Probably in the backyard. There were also bits and pieces of plans for ruining Sandpoint and murder Cluddox in particular. (probably all of us, actually)
We lootwhore in the backyard. There is a cleverly hidden cash under the sod in the backyard. There is a chest and we pull it out of the ground.
-2 reflex for the two most greedy. 12fire
We decide to check for more traps. Cezar finds signs of a mechanical gas trap. Disable DC 18+/-d6.
Chano and Camlo decide to wait… over there!
Click. We open the box. No gas. Inside is jewelry coinage scroll cases and pieces of a lute.
350gp. 27pp. 1000sp. A gold holy symbol of Sarenrae. Blue silk gown w/silver trim 300gp. A few of us smell a goblin on it. A potion of remove fear, oil of align weapon, and a scroll of protect from good. An envelope, stationary from the house, with a broken Kaijitsu seal is a writ entitling the bearer to withdraw 700pp. Some old Kaijitsu name we don't even recognise.
We spend the morning making the house livable to ourselves. We spend the rest of the day upending the whole house. Cluddox follows Solomon out on the town. The rest stay and search. 33search
Nothing too notable except inside the office desk. (the desk itself is almost priceless the wood probably form the far east.) They find a secret compartment inside one of the legs. Check for traps and detect magic while Camlo steps back. No traps but abjuration aura. Cezar tries to open it before Camlo can escape the blast. There is a wave of energy and necromancy washing out from the trap. PEPs! Just Cezar! His dice sound like hail on a tin roof!
He feels energy attempting to rip away his life force but he resists enough to only have his flesh shredded and takes 33dmg. The energy pulls back in and the trap resets.
XP: 5th 1800
Some time in the morning Solomon and Cluddox finally have a decent idea of the economy of each district.
Beacon's Point provides a +4 bonus to appraise for selling in the lower district. The downside: sense motive less than 8 is likely to have someone in the party being pickpocketed.
Staying within Naos is only a +1 bonus to appraise but the guards keep us safe.
½ market value. Good diplomacy is up to another 20%
We decide to sell in Beacon's Point. A decent profit and no picked pockets.
We divide the gold. 147pp 9gp each.
Staying at the manor living expenses is 10gp/week.
5gp/week = -1
10gp/week = normal
15gp/week = +1
20gp/week = +2
30gp/week = +3
50gp/week = +4
½ of your take 10 on appraise will lower the cost.
We settle in for the night.
Aug: 16th.
Camlo spends the morning crafting arrows. Clud drops the group sack in the room. Soon we head to Foxglove manor. It's a small townhouse. Not even on scale with Kaijitsu manor. For now, Paul calls it in Lowcleft district. In an area of the Ascent.
There is a small garden in the back. 3 stories. The first floor windows have been boarded up. The state of the shrubbery show us it hasn't been well tended. A gate leads to the front lawn. Being in a decent part of town, prying the boards off wouldn't be good for our new rep.
Solomon opens the gate and walks up to the house. Knock, knock, knock…? We follow.
He hears some movement inside. The door opens. A tattered butler outfit greets us. Circle under his eyes and messy hair.
Butler: Who is calling?
Sol: Solomon and company.
B: Um, er. You're that group from Sandpoint. Cluddox? Oh, I'm sorry. I should… Please come in!
The place is not well maintained. A funny stale smell in the air.
B: Please have a seat. Master Foxglove would have us welcome you. The maid will put something on. Please… um.
He wanders off
We listen: "...they are friends of the master. Make do with what we have. I'll be back."
B: so sorry to keep you waiting. He mentioned you and you might come for a visit.
Us: We can tell he's here because of his sense of duty not just because he was hired. There is something off about his demeanor that tells us he's not quite who he says. Cezar is seeing a skulking murderer, but the rest of us aren't seeing it. Cezar's bluff against the strange butler to keep to himself his realization leads to one thing:
Init:  
The butler's body begins to twist and morph into a faceless horror.
Surprise round.
Camlo: surprised
S1: 5' to clud 1hit 18dmg
S2: move to cezar
Cezar: move
Clud: surprise
Sol: surprise
Chano: surprise
Normal rounds.
Camlo: move back and shoot s2. 1miss 2hit 18dmg
S1: to Clud 2hits 32dmg
S2: to Cezar 1hit 21dmg
Cesar: invisible, activate shield, draw chucks, 5' haste on S1 1miss 2miss
Clud: Rage, 5', attack s1 natural 1 (cue sad trombone)
Sol: heal Clud 19heal
Chano: cast shocking grasp on s1 1crit 48elec
Camlo: on S1 1hit 12dmg 2miss
S1: Delay
S2: move behind Clud… Squish and squeeze past Cezar. Flank on Clud. 1hit 11dmg.
S1: undelay to Clud 1hit 13dmg 2hit 9dmng
Cezar: Invisible, move to flank, attack S1 PEPs. 1crit 18dmg DEAD!
Cluddox: to S2 1hit 17dmg
Sol: Cast defensive 19heal to Cluddox. Thanks Solomon!
Chano: Cast defensive. 1hit 13elec
Camlo: drop bow, 5', and draw longsword 1miss
S2: moves. Aoo from clud 1hit 14dmg, move to door and open
Cezar: invisible, out the door to flank, PEP 1hit 14dmg
Clud: Delay
Sol: Cast defensive, heal Clud 20heal
Chano: 5' cast defensive 1hit 15elec DEAD!
Faceless stalkers. 5HD, dr/blunt, wielding some kind of curvish blades.
XP: 5th 1200
We search the house and find that it wasn't really 'lived in'. These things didn't really live. Upstairs bedroom has a zebra skin rug with a little value. The mantle still has all its knick knacks. The shed. The office. We focus on a few major areas.
The mantelpiece with two roaring lionheads. One of the lions has a keyhole deep back in its throat!
Eric is wise enough to remember that we found a small key when we fought the Skinsaw man. Cezar! Find traps. No magic. No traps. Camlo steps into the next room. Click.
The other lions head slides open. There is a small cach. A leather bag, paperwork and a black ledger.
The bag has 200pp. A number of legal papers pertaining to the townhouse, and a deed to the northern manor. It shows Foxgloves paying only about 75% of the manor. The rest of the money coming from the Brothers of Seven. The deal states money lended then reverting the property to them in 100 years.
The ledger shows over a dozen entries referring to "Iesha's trip to Absalom". 200gp to pay for each trip being deposited at the Seven's Sawmill. About 3 weeks apart. It doesn't escape us that Iesha was quite dead at this time.
We add our own notes to the documents and bring them to our drop off.
We make our way to Seven's Sawmill. We don't know the way so Solomon covertly asks for directions. We're pretty sure we haven't tipped our hand. We pass by Our Lady of the Blessed water
A spring of clear water in Keystone. The bronze statue of a lilith woman. Supposed to be her spirit. A few of us have heard that this grants bonus to caster level and concentration checks for divine spells. 10 min of prayer and caster level check.
Up Splitriver way. Over to the island. Many sawmills and boating industries here. We see the Seven Sawmill is one of several. The building is out over the river. Stairs lead down to a door just above water level. Wheels churning.
We continue west to the rest of the city. Ordellia is the district. Most town hall meetings happen at the showhouse. Camlo looks to see if there is a show tonight. Tomorrow night. Two silver a head. Camlo flips a gold and buys five tickets.
There are places in Magnimar that makes constructs. Pug's Contraptions specialises in small toys, baubles, fancy locks, etc. Cool.
Once a year the golem works holds a contest where the entrants are marched in a parade to a panel of judges.
While keeping an eye on the place… Cezar makes out some guy who seems out of place. Cezar finally notes that the guy is casing the sawmill. We have competition? A ragged looking man who keeps wandering in a pattern. Cezar puts a tail on him and we keep our distance. Stealth 15 to get up to him without scaring him off.
Cesar gets within conversation distance. Seems a bit like a homeless guy in appearance. But he's moving like a battle ready warrior.
C: We seem to have a common target.
Diplomacy… poor.
His eyes widen and his hand moves toward something…
Cezar puts his hand up.
Him: oh, excuse me. I must be going.
Cezar lets him go. Change appearance. Leaves us behind. He does his disguise thing and keeps stealth. The stranger wanders his way around  town. A walk in the park and the guy finally makes his way back to the island.
We hang around on the bridge and wait. Cezar continues to tail the guy casing the joint.
Cezar comes to us on the bridge. Gives us a rundown. Cezar goes back to tail and we wait in a more friendly establishment.
7:00pm a delivery approaches the sawmill. Several people meet up and begin to unload the crates. Cezar notes his tail gets into a permanent position to see and begins writing something down. Sketches of faces. Seems to be of the people in the mill. He PEPs a listen roll. The guy is talking to himself, "father skinsaw doesn't like your plans father skinsaw says you are wrong I have the right vision". Cezar withdraws and comes to find us.
We aren't familiar with a Father Skinsaw… We note that noone has left the sawmill all day.
After it's evening the sounds of the sawmill finally die down. The water wheels keep turning. About 10 at night one guy heads down the road and comves up to the door of the sawmill. After a few words the man is let in. 11:00pm
Cesar climbs and finds a flat, walled section of the roof. It has a rookery and a trap door leading down. The rookery's door is wood mesh and holds 3 silent ravens. A bucket of feed, a quill and writing papers weighed down by a polished rock...
Cezar gives a listen. It opens into a 10x10 office. Cezar spends his last ninja point to see in the dark. Double doors to the west. The walls bear skins of human faces stretched over wooden frames!!!  A desk, a rocking chair, and a cot. A ladder leads up to Cezar's position. Reddish light from under the double doors. Cezar hears a few voices from beyond the door. Seem rhythmic and chanting.
GTFO!!!
End
½ PEP
15*level XP
PAUL PEPs
½ to Mike for exploration
P2P PEPs
Eric: ½ to Mike and ½ to Kev for RP
Kevin: ½ Joe for healing and ½ to Mike for bravery
Brian: ½ to Mike and Kev for HPs
Joe: ½ to Mike and Kev for being HP sponges
Mike: ½ to Kev for the funny and ½ to Eric for keeping us moving
Next week:
Paul is delay. Official start is 4:00!
No Mike. Get us stats and how much stupid shit he would do? (protip: not a lot)
This entry was posted by
kevin
and is filed under
Announcements
.