Our Friend Endured Terror and Torture Until We Could Save Him. And in the End... We Didn't.
The sudden disappointment of hope leaves a scar which, even the eventual fulfillment of that hope, never entirely removes.
12/4/16
Start
Mike gets 1 pep for fixing comments on Gaming Society
½ pep start 15*level XP
Story Time:
Prayer to Desna:
Blessed is the long road and all who make the journey.
Let the dream light your way like the stars.
Desna is aloof. Not from arrogance but from confidence. An ancient deity who dislikes predicting the future. She has a past stretching back eons, but she is eternally young. Desna teaches her followers to trust their desires embracing the weirdness of the world.
Her followers are not afraid to get dirty. Worldly experience is preferred, and it's better to ask forgiveness than permission.
3 myths of Desna
Ghlaunder's Hatching: Desna wandered the Ethereal plane and found an egg full of magic. She opened it, releasing a mosquito like being called Ghlaunder. They fought, but it escaped. Learn that every life contains mistakes. But is better to accept them than not live at all.
Lamashtu's Trap: Desna's old mentor was Churchanus. He told tales that Desna listened to. Enemy of Lamashtu. She attacked to steal his power over beasts. As Churchanus died he willed his portfolio of travel to Desna.
The Stair of Stars: Story of the journey of a priest who traveled for years and placed found marks at the corners of the world. He dreamed he walked to the edge of an ocean with a giant stairway made of stars. There are always new things to discover even after a lifetime of travel.
Now: The Skinsaw Man.
Init.
Aldern's voice changes again.
A: I wonder how your death will affect your friends? How will your murders shape the world?
A: War Razor at Cluddox. 1hit 14dmg 2miss 3miss 5' step back
Cesar: Comes to his senses! Weapon at feet. Pick up katana. 5'. Swing 1miss
Camlo: Shoot. 1miss
Sol: Save? Good. Spiritual weapon. 1miss
Cluddox: 5' step. 1hit 10dmg "Work with me, Aldern!"
It: Aldern served his purpose. The Skinsaw Man is here now.
Chano: Shocking Grasp. 1hit 13elec
Aldern: on Clud 1hit 4dmg 2miss 3miss 5' step
Cesar: 5' to corner Attack 1miss
Camlo: Move and shoot 1miss
Sol: Hammer 1hit 11dmg cone of flame: 18dmg
Cluddox: "Give me my friend back!" 5' step 1hit 12dmg
Chano: SG: 1hit 18elec
Aldern: "Cluddox. I am what's left of your friend…" 1hit 6dmg 2crit 19dmg Pep Save Barely. 3hit 2dmg save good Clud is down!
Cesar: Stab ninja point: 1hit 7dmg 2miss
Camlo: Arrow 1hit 11dmg
Sol: Move around table to clud CLW 12heal SW 1miss Cluddox up.
Clud: Delay on ground
Chano: Shock 1miss
Aldern: Move to Sol 1hit 8dmg 2hit 11dmg Save? Fail Paralyze 3miss
Cesar: Delay
Camlo: drop bow. 5'step and draw. 1miss
Cesar: undelay Flank! Pep 1miss
Sol: Paralyze Hammer 1miss
Cluddox: Delay…
Chano: activat pearl
Aldern: Cesar 1hit 7dmg 2miss 3hit 7dmg Save? No. Paralyze
Camlo: 5' step swing 1miss
Cesar: par
Sol: par
Clud: Delay
Chano: SG Pep 1crit 28elec He falls, smoking.
As black energy leaches out, his voice changes. "The house won't let you leave."
He collapses into mold…
Bits of fungi are growing back from where Solomon burned it. The bits of Aldern's body leave behind his finery and a few possessions. We find his masterwork War Razor. A ring. Another ring. And a mask crafted from leathery skin. All magical. We also find a small cameo. And a key.
Inside the cameo is a tiny portrait of Cluddox.
Chair. Wall fungus. The bits of box have necromancy symbols. It may have once been seven sided… The black shadow-like fungus grows faster and stretches down to meet the box. Chano realizes that something went wrong with the process and the phylactery couldn't hold the soul and it escaped into this location. The house is the phylactery! More or less...
Take 20 on the room. The portrait of Iesha, if clean would be worth 200gp. A small silver keyring w/ 2 keys. 10gp. Tarnished iron key with an 100gp opal. Small key is bronze with a strangely long tang. Head of a lion. The fungus near the doorway hides a mold encrusted wand. Wand of Knock. Cluddox grabs the portrait of Iesha. An envelope with a lock of hair. Matches Cluddox' hair color. There is a stack of charcoal drawings of Cluddox. One even depicts Cluddox lifting Aldern from a dark pit. Also is an envelope containing a letter from a strange benefactress:
Heading back to the spiral stair we peek down the west passage. Cesar searches ahead and we follow. He comes to an open room and the long cave stinks of rotten meat. The swath of animal and fish carcases, as well as a few humanoid and at least part of a horse, causing the smell.
Out of the shadows comes a large undead bat!
Init.
Dire Ghoulish Bat: move to Cesar 1miss
Camlo: Move next to Clud, draw bow. 1miss
Sol: Move up the hall.
Chano: Move up, Ray! 1miss
Clud: Delay
Cesar: Stab 1hit 5dmg
Bat: Bite Cesar 1miss Turn and move away Cesar AOO 1miss
Camlo: Move in the room Shoot 1miss
Sol: Delay
Chano: Move up a bit.
Clud: move in 1hit 14dmg
Cesar: Move up 1hit 4dmg
It: Screech Bite Clud 1miss Move again. Cesar AOO: 1miss Clud AOO: 1hit 15dmg
Camlo: Shoot Bat AOO: 1hit 11dmg Save? Good. 1hit 7dmg
Sol: move up to flank Draw. 1miss
Chano: 5' and Ray 1miss
Clud: 1hit 14dmg
Cesar: move to flank 1miss
Bat 1hit 12dmg save good AOOs take it down!
Cluddox: Grr...
It was obviously feasing here. There is a faint light coming from the very west end of the cave.
We take 20 on the cave. 2 of the 3 humans seem to be long dead nomads. The third has some gear. A pearl ring, an Adamantine longsword. A magical hat and 56gp. A Hat of Disguise. (basic)
Looking up reveals a newly broken into well. Cesar notes a few feathered tails sticking over the rim.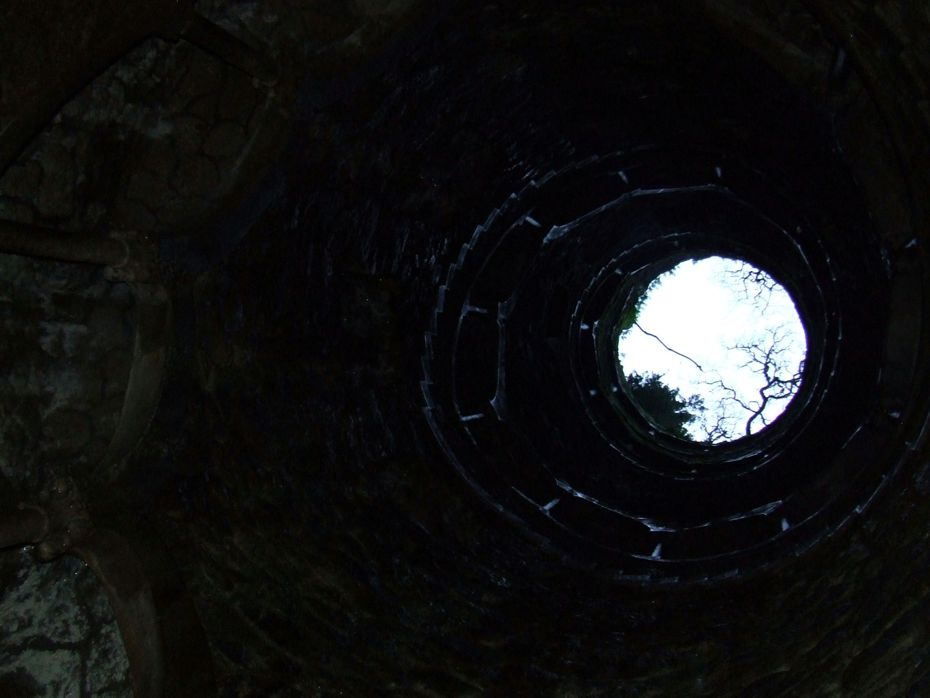 We discuss how to leave. Climb the well or front door?
Front door it is. Back up the spiral stairway. We're in the main hall with the nice manticore. Camlo collects the monkey head. We look out the windows and see motionless crows everywhere. Chano preps a web spell. Cesar cracks the door open and fails his be sneaky roll.
Init.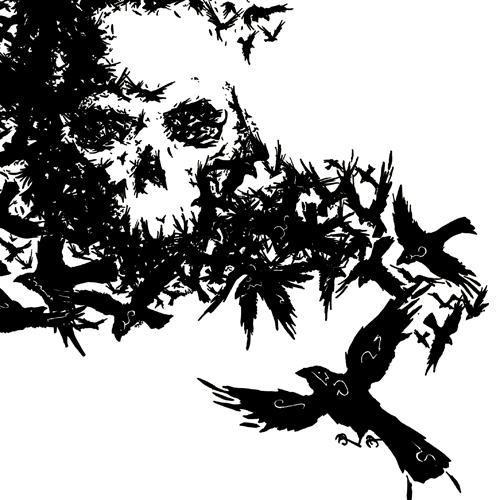 Swarm 5: Flies toward the house
S3: Fly toward house
S2: Fly toward house
Cesar: Draw chain and ready attack
Camlo: Return bow, Draw Flail
Chano: Cast Web into the trees and ruins. 1, 2, 4, and 5. Saves? All failed! Move back.
Sol: Delay
Clud: 5' step Ready to swing if threat.
S1: Fail save
S5: Free! Move save is good. They are flying.
S3: Move to front door. Cesar AOO: 1miss They move in. 4dmg Cesar
S2: Fail save
Cesar: Save good. Move Attack 1hit 6dmg
S4: Fail save
Camlo 5' step hit S3 1hit 8dmg
Chano: Qstaff 1hit 8dmg Swarm gone!
Clud: Run outside
S1: Fail
S5: Swoop to Clud. 5dmg
S2: fail
Cesar: Move up to S5. 1miss
S4: fail
Camlo: Double move to S5
Chano: Double move
Sol: Double move
Clud: Save good 5' and swing 1miss
S1: fail
S5: Move to Chano, Camlo 5dmg
S2: fail
Cesar: Attack! 1miss Move
S4: fail
Camlo: Save? Good. 5' and whack. 1miss
Chano: Save? Good. 5' and qstaff 1hit 6dmg
Sol: 5' and activate wand? Nope.
Clud: move up 1hit 15dmg. It's gone! "Now run!"
S1: fail
S2: fail
Cesar: Double move
S4: Fail
Camlo: Double move
Chano: Double move
Sol: Double move
Clud: Double move
S1: free and moving
Cesar: Unwrap and mount
S4: fail
Camlo: Unwrap and mount
Chano: Move and unwrap
Sol: Move and unwrap horse
Clud: Unwrap and mount
S1: move in on us Chano and Cesar 6dmg Horses too! Chano spends a PEP to keep his horse under control
S2: fail
Cesar: Saves? Horse OK. Cesar No. But he can move action so the horse and him are gone.
S4: fail
Camlo: Gone
Chano: Save? Horse good Chano good Gone.
Sol: ON horse and gone
Cluddox: gone.
The crows follow for a bit but soon turn back to the house. We stagger back to sandpoint at 2:30am
XP: 4th 982
Dinner.
Retcon: Aldern was describing the house and how it invaded his dreams. We get the exposition that he had come back to try and reestablish the manor. But no one would come work for him. As he did eventually get a few people, it was not going quickly at all.
Everything changed when he met a lovely woman and made her his wife. A group of varisians caught in a storm and he invited them in the house. Iesha was among them and he fell for her that night. They were married within a week. But he learned long ago that everyone wants your stuff, so he tried to keep her safe. Even locking her in the manor when he traveled to Magnimar. One night he found her with one of the carpenters in the library. In a rage, he killed them both.
He went back to the investors in Magnimar and they promised to take care of the problem. He kept up a brave face in public but every week they demanded more money or they would reveal his murders. Then a strange woman, through the Brothers of Seven, said that if he would just go back to the house and collect the fungus, they would be done with him. He swore off his fayleaf addiction and headed north. But he couldn't face the house and first went to Sandpoint's swallowtail festival. There he met Cluddox, the man who would save him!
From there he returned home. But it had become amazingly worse. Mold, rats, and sobbing upstairs. He harvested the fungus and sent it back to Magnimar and now he's certain that the fungus itself turned him into this. His hunger for flesh was out of control. He would order raw meat at the fancy inn he stayed at. Things became disconnected about then. He was taught the sihedron ritual at this time. He's sure that she was planning all of this from the beginning. He begs us to find her… but as he begins to say her name, the Skinsaw man emerges.
We're back in Sandpoint. No guards at the south gate. We head for the temple to wake Father Zantus yet again. We beg him to follow us to the Chapel. He suggests isolation and will begin treatments. We get comfortable. It will be a while.
The rat's disease works its way into our blood. Fort save DC: 20
Camlo first. 2 PEPs on Father's roll. Got it. +4. 2 PEPs on his roll. Success.
Solomon. 1 PEP on Zantus' roll. Got it. 1 PEP on his roll. Success
Cesar: Zantus' roll. No help. 1 PEP on himself. Fail. His mind is starting to twitch. A horrible outbreak of facial tumors! -2cha and -4 con damage!
Cluddox: 1 PEP on Zantus' roll. Got it. His roll. Fail. -1cha and -4con damage.
Ghoul Fever checks. Fort save DC: 13
We all get Zantus' +4 Two checks are needed.
We all roll. PEPs abound. We make it. That's two days worth of checks.
Voral's Phage. From the mold. DC: 20
Cesar: Zantus' check? No help. Cesar check? Fail -1cha and -1con damage
Day 2:
Clud's rat disease: Zantus' roll: Got it. +4  Clud's roll: Success.
Solomon is good. Chano is good. Camlo is good.
Chano is distributing flyers.
Cesar and Cluddox still sick.
Solomon finds a scroll of Remove Disease somewhere in town for cesar. By the morning of the third day he's good.
Day 3:
Cluddox: 1 PEP for Zantus. Fail. 1 PEP for himself. Fail. -1cha and -3con damage.
Chano's distribution is mostly a success.
Day 4:
Clud's disease check: Zantus: Fail. Clud's roll: Fail. -3cha and -1con damage.
That evening, Solomon manages to find a second scroll of Remove Disease!
He gets Cluddox a full heal.
Cluddox and Camlo both donate 50gp to Desna
5th day back. The show is happening today!
We ask Ameiko about proper attire. She suggests we just dress nice. Father Zantus still promises his Eagle's Splendor. Cesar is trying to walk the line to promote. He provides another +1
Brian: It is the goblin song. Done not as a testament to their evil but to enlighten us about these poor misguided creatures. Them chewing is a symbolic representation of their need to fight and scrabble for survival instead of being treated as equals.
Paul: another +1.
2 PEPs and he rolls over 20! The crowd is actually impressed and the town comes away with a new appreciation for goblin lives.
Chano also finds a new feeling of peace within himself in sharing the plight of the gobbos.
Day 6:
Meeting with Mayor and Sheriff. Pretty simple. Dump exposition at them.
They thank us. We have 500gp in credit for anything in Sandpoint. Do we need anything else from them? They would sure like us to stick around. What do we do next? Check this cult in Magnimar? Look for Shalelu?
Cluddox spends the week with Father Zantus talking to Desna while he heals, but doesn't find any further enlightenment.
What is Solomon burning today? He manages to gather a celebration to start a bonfire party? in the middle of town. As he spends the night he's getting frustrated because nothing of VALUE is being burned. He needs to burn at least 2gp value to be good a week!
Paul gives us a link to a few items that are outside the towns gp limit! We have an actual list.
Nothing particularly eventful happens for the rest of the week. The glassworks is back in business.
We discuss what to do with the mask and the razor. Do we sell or destroy it? Cesar wants the mask but we want to get rid of it.
The party vote is to let Solomon torch the mask. He and Chano find a dark alley and Solomon lights up! He pours fire into it. Eventually it crumbles.
XP: 300 to be divided amongst all good players.
We split it even. 60 each.
Camlo takes the sword.
Cesar takes the hat.
Cash. 716gp each.
The paladin of Abadar comes to see us. He is impressed with our fortitude of standing up to our trials with the Foxgloves. He would like to give us something to help in our fight against evils of this nature. He gives us Abadar's Rod of Lesser Healing. 3 times per day it will cure up to 50hp but it involves a complex activation. Wherein you invoke Abadar, specify how many rounds you will be counting and then count every second. Depending on how many rounds you count, that's how many hp you are healed. Count 6 seconds, get 1hp healing. Count 300 seconds, get 50hp healing. Intelligence DC: 12 to count. This is on loan from the Church of Abadar, and if ever The Sandpoint Fast Boys ever disband, it should be returned to the church.
Camlo finds a Wand of CLW. 750gp We buy it.
Cold weather has begun to take over the area. We see snow on the hilltops. We go talk to Hemlock to see if Sha has checked in yet. She has not.
We're discussing our major XP differences. Mike and Joe may need to do some math. Check the notes. Kevin is a good note taker.
Cluddox wants to get the portrait of Iesha cleaned so he begins looking around town. Hayliss Korvaski runs Sandpoint Boutique. She is a Varisian with a dislike of the Scarnetti family, but it seems the best place to take the painting to try and get it cleaned. Covered in mold that smells of rotting bodies, the painting is too offensive. Clud can't convince Hayliss to clean it at any price and she chases him out of her shop...
Camlo takes the monkey head to The Feathered Serpent. Vorvashali Voon is even more excited than usual over this grim curio and is willing to buy it for 500gp!
Magnimar: City of monuments. Built in the shadow of the ancient wonders of the north. Full of cold beauty and stress, the city desires to become a beacon of culture in a harsh land. It's really a cracked mask over a struggling government and ancient secrets.
One of the most notable locations: The Irespan. It is the remains of some bridge of an ancient civilization.
Another location is the sea cleft. A 300' tall natural cliff that divides the city into three main sections. The Summit above, the Shore below and the Shadow under the Irespan.
The city holds 16,000 people. Mostly Chelish humans.
Anyone looking at the skyline will see the Arvensoar. A tower between the upper and lower levels of the city. It's actually built for the city, not a remnant.
It is well know that the monuments built around Magnimar have powerful magical effects.
Example: there is a monument called The Founder's Flame. Built by Antholas Kaddren. Green oil, filling a bronze bowl perpetually on fire, the colors constantly changing. If someone meditates for 10 minutes with a successful DC 15 spellcraft, they gain 1 caster level to fire spells for next 24 hours.
Crafting and other skill bonuses are derived from other locations.
The Irespan was investigated early during the city's founding. In the Irespan itself, some people actually started mining into it and found a complex inside. Within, they found a horror of devilish design. Fiendish spiders poured out which nearly wiped out the city. After closing it up it is completely restricted from any activity.
Magnimar welcomes nearly any religion, as long as there are no crusades. A roving population almost doubles in size as the seasons change
The mayor is well known for his scheming and wealth. Magnimar has the dubious distinction of not having many laws. Keeping this mentality from having escaped Korvosa's rule.
One organization in Magnimar is known as the Hell Knights. Lawful Mercs. Based on history with the Chelaxian empire following strict edicts along the setup of the 9 hells! While not evil, they're certainly not good, either. They do have an open enmity with any Shoanti who don't accept civilization.
End.
½ PEP 15*level XP
Paul PEPs
Brian: Planning the play about goblins
Brian: Web the crows strategy
Eric: Various RP and etc.
Mike: Bringing brownies
Mike: Trying to help Brian with the play
Brian: "You didn't listen to the song, did you?"
P2P PEPs
Mike: ½ to Joe for bacon saving, ½ to Brian for bacon saving too.
Brian: ½ to Mike for helping with the play, ½ to Kevin for pity on the diseases.
Joe: ½ to Mike and ½ to Kevin for saving Solomon from the Skinsaw Man.
Kev: ½ to Joe for brave combat, ½ to Brian for good RP.
Eric: ½ to Joe for RP, ½ to Brian for RP.
We're on next week.
This entry was posted by
kevin
and is filed under
Announcements
.
2 comments
Another 500 exp (I'm crediting last 10 posts from previous session)