Now Shalelu Needs Our Help. So, Yet Again We Set Out to Save a Friend. Here's Hoping We Succeed This Time.
It's easy to go down into hell; day and night, the gates of Death stand wide. But to climb back again, to retrace your steps into the light; there's the real task.
12/11/16
Start
½ PEP start 15*level XP
Eric is complaining about Joe's character sheet so he gets the ½ PEP for playing.
Mike believes not clicking a certain button in Hero Lab is the cause for his lack of XP. He feels that Cesar is now up to snuff.


Flavor: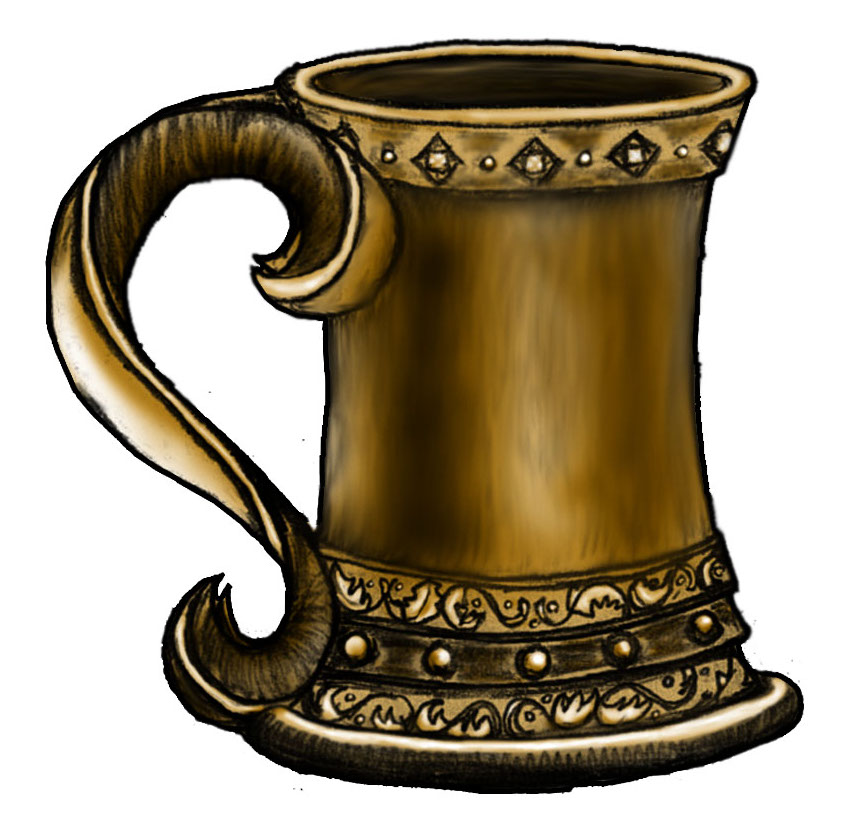 Cayden Cailean: The Drunken Hero.
As a deity, he is Chaotic Good. Patron of ale, bravery, and freedom
Portfolios are; Chaos, Charm, Strength, and Travel
Favored weapon is the rapier and favored animal is the hound
There is a feat called Deific Obedience. Boons from your Gods.
Kayden: Exalted bless weapon. Greater Magic Weapon. Certain weapon bonuses
Divine fighting tech for wading into battle with a tankard: wield a mug as a weapon!
Drink from the tankard as a potion or attack as a dirty trick!
Swashbuckler can replace feat with refill tankard as swift/ +2 to dirty trick with tankard
Spell rules: Bard; Knock is 1st level to chains and locks. Cleric; Knock is 1st, Create Water is 0 level and creates ale and wine instead of water.
Unique Summon Monster replaces certain monsters.
As an accidental god, Cayden tries to avoid trouble with other gods. He favors Desna, Sarenrae and Shelyn,  whom he serenades. Torig shares his love of ale.
Aroden respected Cayden because of how he overcame the Starstone challenge.
He has no respect for his evil peers and strikes at the prince of darkness, Asmodeus, whenever possible.
Little Thunder. Pet mastiff. Goes out of his way to protect innocence.
Thais was a prostitute. The Accidental herrald. Cayden claimed her spirit and placed her in the roll of herrald.
Cayden has few churches, but many shrines; located in alehouses and breweries. The church itself sponsors many orphanages.
Cayden's Holl Text. He has done little writing. He lets his actions serve as an example.
We were explaining the situation to the Sheriff and Mayor. The news should get everyone back at ease. We were reviewing the notes from Foxglove manor.
 and 
Cluddox takes the time to learn to use his hammer in a less lethal way. (Kevin takes the Bludgeoner Feat) Another sense motive is allowed. It comes to him that an enlightenment, perhaps divine, that helps him understand the way that he acted in Thistletop, combined with the evil, were in contrary with how he wants to act. And how Cayden would want. So he realizes that Cayden's beliefs are not about the attainment of power or skill. They are about the impact on those around him. The people he has protected. Clud realizes that if he was to spend enough time on an adventure, not gaining XP or earning power, that he would please Cayden enough to help with the wrath leaving him.
Don't accept the next 500xp that is granted and ponder on Cayden's true purpose.
No one seems to notice Cluddox's new enlightenment. He still has work to do but he now knows his path.
Nov. 12th.
It's cold. Hemlock wishes to see us immediately. We follow him outside of town.
A couple goblins saying they represent The Great Druid Gogmurt. Have come with an opportunity for less fighting with longshanks. The best he could understand. About 25 minutes north next to the Tanglewood waiting to talk with those who killed chief Ripnugget.
We agree. We can't hand over the town or anything but we still agree to go. No horses!
We start walking.
We past the Ravenroost hills and spot a group of goblins about 300' out and we spot a few hiding in the trees. A few run back to get others and several come out to block our way.
"Longshanks stay!"
From out behind the trees comes Gogmurt. He has what looks like an even larger Firepelt! The others look and note he recognises us. "Come closer so we may talk. I have brought something that you may want. I hope to get some help in how we deal with you in the future. Many goblins have been slaughtered because of stupid chiefs. So I have taken the chance and perhaps you will listen. I have your elf woman. She has been spending time at Thistletop and waiting for goblins, killing nearly 3 whole tribes! Only 2 tribes are left. She is sick and had to be bound. I even tended her wounds. Many want her dead but I kept her alive to bring her to you to make a deal."
Us: What are you proposing?
Gogmurt: "I give you this elf and there will be no more incursions into the goblin woods. Mosswood, Tickwood and the Brinestump marsh. The remaining chieftains are afraid of more longshanks coming to kill us."
We think it sounds way more than reasonable. He wants a signing from the mayor. And a horse...
Heading back to town we find the Mayor. Exposition!
The mayor is less than excited. "The goblins don't really enforce their own, and Shalelu isn't really a town member…"
We convince the mayor to foot the bill. "I'd recommend you don't tell the stablemaster! I'll sign an agreement with House Deverin's name. She seals the Gogmurt Document and we head to the stables.
½ PEP to Kevin for remembering to not write down goblin names
We decided to give the gobbos one of our horses to not have to lie to the stablemaster. We are able to take all our horses together to avoid suspicion. The mayor is ready with the document. We head out.
5 minutes out of town and we peg our horses and bring just Camlo's horse to the gobbos. They are eying the horse cruelly.
Gobbos: "Kill the horse so we may eat."
Camlo kills the horse as humanely as possible. The gobbos start cheering and run over. Gogmurt yells something at them and they stop confused. He heads over and tries to make an impressive display when heading over and makes some sort of hand waving ritual that Chano notes is IN NO WAY A REAL RITUAL whatsoever! "The horse is accepted." Now the gobbos run up and grab their share.
We hand Gogmurt the treaty and he reads it upside down. He then leads us into the Tickwood and brings us to a litter made of sticks. Bound by about 3 lengths of rope is Shalelu looking way too pale and covered wounds bound by dirty rags. Solomon notes she has about 7 con damage from being bleed out. 20 wis damage from spine nettle poison to keep her at 0 wis. The wounds appear to be beyond the poor healing attempt. They are not healing naturally. It's not the poison.
Her armor and rapier are with a pack to the side of the camp. Gogmurt is so proud that the goblin killer is still alive! He managed to keep the other gobos from killing her because he is a druidic master.
"You can take her now."
We go to take her equipment and Gogmurt tells us, "No!"
Cesar quickly points out that her equipment is in the deal. Smoke comes out of Gogmurt's ears at trying to read the document. We suggest he gets himself some horse and he does so, leaving the possessions to us.
Camlo cuts the binds and Cluddox carries her to the horses. Solomon can't bandage the wounds any better and they keep bleeding. He fires a few CLW on her. The magic is wasted as the wounds resist the magic!
We arrive back into town. Sha is brought to the temple. Father Zantus finds a similar problem with his healing. Chano things that he once read about cursed wounds that require a spellcraft check while casting the healing to affect the wounds. He relates to the Father and Zantus manages to get one of his spells to take hold. She's going to be here a while. We're not sure how Thistletop affected her so we convince Hemlock to make a jail cell comfortable. We find the bow among her possessions but we don't find the scabbard of goblin skin she commissioned from the stablemaster.
We decide to follow it's lead if it will help Sha's recovery.
Mayor Deverin wonders if we should go back to Thistletop and make it not bad. We debate.
Wait for Sha?
Go to Thistletop and…? Destroy shrine. Burn anything wood. Consecrate and smash.
Find the cult in Magnimar?
We find a Consecrate scroll and give it to Solomon.
After about 5 days, Father Zantus gets Sha up and conscious. When we check with him he tells us that as she became conscious she seemed disturbed by dark images. The goblins keep laughing even after she skins them. Once in awhile, she recognized Zantus and calls for his help. Naphishnacore is in her dreams. We give her time.
Six days later, Zantus admits he's not making a lot of progress. She admits to committing atrocities to the goblins at Thistletop. Even those under a white flag. She must reconnect with Desna, but whenever they make progress something begins to whisper to her.
We agree that's enough for us and we make plans for Thistletop.
Nov. 22
During those weeks we see some snows. It's getting colder. We organise our return to Thisletop. A few of us take time to stop at the temple and ask for protection. We gather supplies and head out.
After a few hours we're at the edge of the Nettlewood. We manage to follow the trail back to the bridge. Much of the nettle seems resistant to some sort of burning. Several scarecrows made of goblin skins are stretched across the bars and posts. There are no signs of recent habitation but many blood stains soaked here and there.
More signs of piles of things burned. We pass the hole and Cluddox makes enough noise that something roars from down below! We quicken our pace.
The rope bridge is still intact. On this end several goblin skins have been knit together to form a rough barrier to the bridge.
Dinner. Real dinner.
Inside is quiet. The main door hangs open. Cluddox steps in. A couple goblin bodies still lay on the floor. They jerkily get up, holes in their bodies, and advance on us!
Init.
Clud: "Ah! They're getting back up!"
Camlo: Move in Z11, Draw sward. Swing. 1hit 5dmg.
Sol: Move in Z11, draw sword, swing. 1hit 2dmg
Chano: 5' Ray of Frost on Z12. 1hit 2cold
Clud: Move in Z12, draw swing. 1hit 18dmg. Doesn't seem completely affected.
Cesar: move Z12, draw, swing. 1hit 12dmg. Dead again!
Z11: at camlo 1miss
Camlo: Swing back. 1miss
Sol: Swing Z11 1hit 4dmg
Chano: Move and ray Z11 1hit 2cold.
Clud: move in swing. 1hit 12dmg Dead again!
A few of us note these gobbos were lying in the same spot we killed them in. Chano says a few words for them and harvests the bodies.
We head straight for the nursery. We don't see anything moving from the doorway. Solomon walks in. He sees some small gnawed bones. Only one intact corpse. But there must be enough bones for 5-6 more bodies. We try not to dwell on the cannibalism...
In the courtyard the gobbo bodies stay put.
We head to the chief's room and peek in. The corpses seem to be in place. The cold is keeping the smells down. As cluddox steps to the chief, all the bodies begin moving and stand up.
Init.
Cesar: 5' to Z7 and stab. 1hit 17dmg
Camlo: Move to Z2 and swing. 1miss
Z8: move up
Chano: ray Z7 1hit 2cold. Dead again!
Z1: move to Clud 1miss
Z2 move and Clud 1hit 6dmg
Cheif: move to Clud 1hit 5dmg
Sol: Move and draw Z2 1miss
Clud: at Z2 1miss
Z3 moves up
Z4 moves up
Z6 moves up
Cesar: move to Chief and stab 1hit 7dmg
Camlo: 5' and attack Z1 1hit 6dmg
Z8: 5' to Camlo 1miss
Chano: move up shock on Chief 1hit 21elec It falls!
Z1: on Camlo 1miss
Z2: on Clud 1crit 10dmg
Sol: Burning hands on Z5,3,8,2,4  9fire They make no sounds.
Clud: on Z1 1miss
Z3: to Camlo 1miss
Z5: on Camlo 1miss
Z4: moves up
Z6: on Clud 1hit 5dmg
Cesar: 5' to Z6 1miss
Camlo: 5' to flank Z1 1hit 6dmg
Z8: 5' to Cam 1miss
Chano: 5' and Ray Z4 1hit 3cold
Z1: to Clud 1miss
Z2: to Clud 1hit 4dmg
Sol: Burning hands. 18dmg on all but Z6 and Z1 Several fall!
Clud: on Z1 1hit 15dmg Down!
Z6: on Clud 1miss
Cesar: Stab Z6 1miss
Camlo: 5' to flank Z6 1hit 9dmg
Chano: ray Z6 1hit 2cold
Z2: slam on Clud 1miss
Sol: swing on Z2 1miss
Clud: 5' to Z2 1hit 14dmg Dead!
Z6: 5' to Clud 1hit 4dmg
Cesar: 5' and flank 1hit 17dmg Dead!
Out.
We begin collecting the bodies into the Chief's room as respectfully as possible. We sweep the level, finding 3 more real dead bodies.
Solomon pulls the last baby out of the cage and notices an almost icy chill in that exact spot. He gets Chano and the wizard detects magic. He notes a necromantic aura. He's heard tell of stories that horrible deaths may cause the haunting spot for a ghost.
We head downstairs to the temple's main doors. Cesar checks for whatnots. Not locked. He swings them open. There are piles of gobbo bodies! Most have been skinned.  The statue of Lamashtu looks to have been heavily damaged. Limbs busted off. The lights are still on the wall. We head in, Detect magic up. The bodies start moving! One of the yeth hound bodies even gets up.
Init.
Chano: Run away! Ray Z5 1miss
Clud: 1crit. 30dmg! He doesn't seem to take it all. Still Dead Though!
Camlo: Move to Hound 1miss
Z3 to Camlo
Z5 to Clud 1hit 6dmg
Z1: 5' to Camlo 1hit 5dmg
Z4: to Camlo 1hit 4dmg
Cesar: Point for extra move next to Camlo. Hit Yeth 1miss
Z2: move up
Yeth: on Camlo 1hit 14dmg
Sol: Heal on Clud. He's hurting. CLW on Cluddox. Some presence tries to interfere but Solomon manages the spell.
Chano. Ray on Z5 1hit 2cold
Clud: on Z5 1hit 15dmg
Camlo: Move back toward the door. Leaving Cesar all alone… Swing on Z5 1hit 9dmg Dead!
Z3 on Cesar 1miss
Z1 5' to Cesar 1hit 4dmg
Z4 't to Cesar 1hit 5dmg
Cesar: Stab yeth 1hit 4dmg Tink! :Poof: run away
Z2: move to Clud
Yeth: move and bonk? Invisible thing!
Sol: Move and Burning Hands! Z1,2,4, and yeth. 24fire. 2 goes down.
Chano: Ray on Z4 1hit 3cold
Clud: 5' to Yeth 1hit 11dmg takes very little.
Camlo: move and attack 4 1hit 10dmg Dead!
Z3: move to Camlo
Z1 move to Camlo 1miss
Cesar: still invis. Move to behind yeth and draw war razor. PEP 1hit 16dmg. Doesn't take all that.
Yeth: to Cesar 1hit 12dmg
Sol: 5' to Z1 swing 1hit 7dmg Dead!
Chano: move and Ray yeth 1crit 2cold
Clud: 5' power attack Yeth 1hit 15dmg
Camlo: 5' and swing Z3 1miss
Z3 on Camlo 1hit 3dmg
Cesar: 1point drop razor. 2hand the sword. 1crit 27dmg!  2crit 27dmg to Yeth, but doesn't take it all
Yeth: Bites back 1 hit 12dmg. Cesar's down!
Sol: move around. To the back. Cast defensively. Fail
Chano: move to no cover Ray yeth 1hit 1cold
Clud: 1miss
Camlo: on Z3 1hit 8dmg
Z3 on Sol 1miss
Cesar: stable?
Yeth: on Clud 1hit 13dmg
Sol: Cast defensively. Good Cesar is stable! Move away
Chano.Ray 1hit 2dmg to yeth
Clud: 1miss
Camlo: on Z3 1hit 9dmng
Z3 on Camlo 1miss
Cesar: afk
Yeth: on Clud 1miss
Sol: CLW spellcraft? Good on Camlo
Chano: Zap 1hit 1cold It drops! Cluddox Grr.
Cluddox: 5' to Z3 1hit 12dmg
Cluddox grabs Cesar and drags him out to the hallway. Heal time.
XP: 4th 708, 5th 702
For today, Cluddox turns his heart away from the continued improvement of his violent skills.
He spends this experience focusing on becoming more heroic in the eyes of Cayden, not just becoming a better killer. Kevin foregoes 500XP for Cluddox.
Solomon checks the wand. It works on Camlo so we hand Cluddox the rod. Kevin rolls a 20 Int so Cluddox counts like a kindergarden teacher! He's fully healed. Meanwhile, Solomon slaps Cesar with the wand a few times.
There are about 38 bodies. We move them to the chief's room and say a few words over them. We haul some of the garbage up and start readying a pyre.
Looking around, we realize that the temple has already been defaced! But we're sure it's still evil. We head downstairs. The floor is still cracked. The same familiar foreboding is still here. Cesar searches for the trap switch. He can't find it in a few seconds… so then he takes 20.
Cluddox steps in to recover Nualia, and her body gets up, arm still glowing with black energy.
Init.
Nualia reaches for Clud. 1hit 5dmg and a negative level!
Clud: 5' from door swing "Sorry Nualia": bastard sword `1hit 17dmg.
Camlo: move to doorway, draw longsword, tumble into room? Fail AOO 1hit 3dmg neg level
Yeth: 5' to Camlo 1hit 12dmg
Chano: move to hallway Shocking Grasp on Nualia 1hit 24elec
Cesar: Tumble to flank. Success. 1hit 17dmg doesn't take all
Sol: Move to hallway cast spiritual weapon. 1hit 7dmg
Nualia: to Cesar 1hit 2dmg neg level
Clud: Move to yeth 1miss
Camlo: on yeth 1hit 9dmg doesn't take it all
Yeth: at Camlo 1 miss
Chano and Solomon note that silver will hurt the yeth.
Chano: Zap yeth 1hit 20elec
Cesar: Delay
Sol: move in and attack yeth 1miss SW: 1hit 8dmg
Nualia: at Cesar 1hit 5dmg neg level
Clud: 5' to yeth 1hit 15dmg
Camlo: to yeth 1miss
Yeth: bite Clud 1miss
Chano: SG yeth 1hit 15elec
Cesar: to Yeth 1INSTAKILL!!! 5' step away from Nualia
Sol: Flame breath. 10dmg SH. 1hit 7dmg
Nualia: Reach for Sol 1hit 4dmg neg level
Clud: 5' step "Sorry Nualia" Power attack 1hit 17dmg
Chano notes that silver hurts her too.
Clud: "Like my dagger?"
Camlo: move up swing 1hit 6dmg. Barely hurts her
Chano: step up. Activate pearl
Cesar: move to Clud and wait.
Sol: Clw. Concentrate? Fail SH. 1miss
Nualia: at Sol 1hit 2dmg neg level
Clud: Draw dagger Hold out dagger.
Cesar takes it
Camlo: Hit a bitch. 1miss
Chano: Shocking grasp PEP 1hit 22dmg The glow fades from her eyes and she collapses.
Cluddox GENTLY picks her up. He wants to bury her at the church. Everyone follows Clud to the bedrooms and he wraps the body. We lay her near the bridge and… debate. Not everyone likes Clud's announcement of taking Nualia back. And we're hurt bad.
...discussing the negative levels. Paul rules this monster's power can result in permanent level loss.
We decide to just set a pyre in the courtyard.
XP: 4th 384, 5th 360
End ½ PEP and 15*level XP
Paul PEPs
½ to Kevin for Cluddox feelings
P2P
Brian: ½ to Eric for remembering hey, bows! ½ to Kevin for finding the insight to his taint
Kevin: ½ to Mike for getting Sha's equipment, ½ to Eric for horrible dead gobbo baby pantomime
Eric: ½ to Mike for the insta kill, ½ to brian for suggesting it
Mike: ½ to Kevin for growth, ½ to Eric for playing sol so well.
Next week: Eric will be late. Be here.
Joe has 2neg levels. Let's get his sheets together.
This entry was posted by
kevin
and is filed under
Announcements
.
2 comments
Another 500 exp (I'm crediting last 10 posts from previous session)