Have fun storming the castle!
We finally came up with a plan that we all followed to the letter. Too bad our enemies didn't do what we expected.
Oh, well. There's always the next goblin-infested, demon-controlled, island-fortress.
10/2/16
1/2pep start 15*level XP
Quick recap and we're off!
G9 cowers
G3 cowers
Clud: Tie Gobbos! Save? Good
Sha: Shit! Clud, you OK? Clud: "Yah! Don't worry, we're on the way!" Move and save? Good.
Chano: Move and ray. 1miss
Flameblade: Back into thorns
Camlo: Ready action to shoot
Cesar: Vanish. Chug Potion
9: tied
3: tied
Clud: double move Save? Good
Sol: Double move Save? Good
Sha: Move and ready action to shoot
Chano: Move and Ready action to lazor
Perception to hear…? Chano hears CLW being cast. Camlo thinks it from nearby. But no fix.
Camlo: Delay
Cesar: Move to dead cat. Still inviso
Clud: Double move. Save? Fail.
Sol: Double move. Save? Fail.
Entangle spell fades.
Chano: Delay. "Wow. You really did that cat a good one!
Camlo: Continue delay
Cesar: Ready for melee.
Clud: Double move to the group.
Sol: Double move toward group.
Gogmurt: Walks out of the bushes. Sha's Ready: 1hit 3dmg
Gog: finish move and stab Sol 1hit 7fire
Camlo: Undelay. Move Shoot 1miss
Chano: Undelay Move Zap 1miss
Cesar: No inviso. Double move around to the south by the hole
Clud: Double move to Gog.
Sol: Flame! 10dmg full. He seems singed a bit!
Sha: shoot 1miss 2miss
G: Falls to his knees and begs for mercy!
Chano: Delay
Camlo: Delay
Cesar: Move to flank ready attack on threat
Clud: Kick wand to Solomon and put a hand on him.
Sol: Let's put a rope around him
Out of combat.
Gogmurt: We knew it was a bad idea! We told Ripnugget not to attack the town! It's all that woman's fault. He just does everything she says. The woman with the torn up belly. Chief is infatuated with her!
They came weeks, maybe months ago. They have so many bad ideas! Her and the group of longshanks - uh…Gogmurt mean tall ones. 4 others. Bruthazmus the bugbear. Human man in metal armor. Dark-skinned, violent woman who uses fire. Male half elf who plays a flute. I think him and the belly woman are lovers.
I told the chief it was no good idea but it just made him angrier. Please no kill more goblins...
Us: Show us the way and we don't need to kill any more goblins.
Gogmurt: The gobbos who failed in the raid were in that room. (the ones cCud killed) Sometimes Ripnugget throws them to the monster down below.
Diplomacy: Success. Gogmurt: I sent an alarm. They know you're here. Most of Thistletop's guards are still on the island. 20? There is something underneath. That's why the lady came here.
We loot him. Leave him his armor.
Solomon touches his wand to himself. Cesar next. Camlo is healed. Then Cluddox. And Chano. Sha didn't get hit.
Cluddox grabs the bag of supplies.
We give one CLW spell to Gogmurt. He leads us to the bridge.
We pass a fur matted room with stakes. Another room full of rocks. We waste no time.
After much crouching and many a sore back, we come to the bridge.
XP: 3rd. 1200
Across the bridge we see some movement on the watch towers. Do they see us first? Cesar notes the movement and stops us. A bridge spans to a roundish flat topped island. Its most impressive feature is a one story stockade with two watchtowers. Pretty big for gobbos. The bridge is rope and planks creaking in the wind 80' above the surf.
Gogmurt: Here is bridge. Let Gogmurt go, please. Cluddox brandishes a dagger at Gogmurt before using it to cut his bindings. Gogmurt runs into the thicket.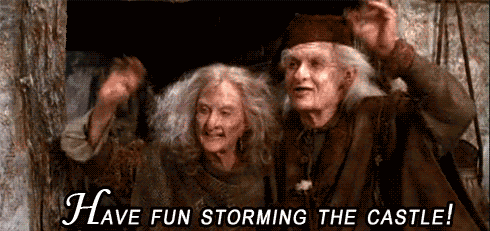 Time for a plan.
Sha will sneak to the bridge to check for traps. Cesar doesn't wait and sneaks behind her. She saw two gobbos on each tower and two goblins on dogs roaming around. Didn't get time to check the bridge before Cesar pushed in. Cesar checks the bridge and he sees signs that it was originally built to tear away on both sides and they fixed it to only tear away at the island side. More than 3 medium creatures will max out the trap. (and thus go for a swim) Cesar watches long enough to see more goblins on dogs trading places. So 4 goblins, on goblin dogs, near the bridge. Tower gobbos have shortbows. Dog riders have horse-choppers.
He comes back away from the edge.
More discussion.
Camlo and Shalelu recover some arrows from the previous battle site, and Chano harvests some gobbo parts. Chano is looking at some serious Diplomacy negatives regarding any goblin interactions in the near future.
Just as we're about to finish and incredible roar, loud and unsettling, rings through the briars! Chano tosses his used gobbos down the hole in the clearing and we soon hear a crunching sound…
We decide today is the best. Can't risk resting the whole night.
Send Solomon invisible to one tower, ready for Cluddox. Clud will bullet-train after him. Followed by Chano and Solomon. Finally the archers will come across after providing covering fire.
Paul want's us to play rounds.
Round 1: Cesar Invisible and run 120' Cluddox gets ready.
Round 2: Cesar move to get ready to defend the bridge. (+2 init for now) Cluddox makes a break for it. Cluddox's 1 on stealth means that combat starts the moment he steps foot on the bridge.
Break for dinner. Brian gets group food all by himself. No peps for that.
Init.
Camlo: Move to edge and fire at #7 1hit 4dmg
Cesar: Delay
Cluddox: Run! Other side of the bridge like a mountain goat running from a… well, a barbarian.
Sha: Move to bridge and shoot #7 1hit 8dmg Dead!
Chano: Move to bridge.
#8: shoot Clud 1hit 4dmg
#9: shoot Clud 1hit 1dmg
Solomon: Move behind Chano
#3: Meanders up. Hasn't noticed yet.
#4: Meanders up. Hasn't noticed yet.
#1: With dog Cesar AOO? Dog 1miss Dog bite 1miss Gobbo 1hit 6dmg
#2: With dog 1miss Gobbo 1miss
#10: Shoot Clud 1miss
Camlo: Delay
Cesar: Tumble to flank. Good. On dog 1hit 11dmg
Clud: on dog 1hit 14dmg Dead!
Gobbo takes dmg from the fall! 2dmg and he's prone
Sha: on #8 1miss 2hit 4dmg
Chano: Run across bridge.
#8: shoot chano 1hit
#9: shoot 1miss
Sol: Run across
Camlo: undelay move shoot #8 1hit 9dmg Dead!
#3: Finally comes around the corner. Move to Clud. Dog: 1miss
#4: Also arrives. Moves to Cesar. Dog: 1miss
#1: Tries to stand. AOO. Cesar 1miss Clud 1hit 8dmg Dead!
#2: 5' dog to Clud 1miss gobbo: 1hit 3dmg
#10: shoot 1miss
Cesar: on #4 dog 1hit 9dmg
Clud: on #2 dog 1hit 12dmg
Sha: Shoot #2 dog 1hit 5dmg Dog Dead!
Gobbo #2 stays standing. He's got the footwork.
Chano: Move to flank, wand shocking grasp to #4 dog 1hit 3dmg
#9 shoot cesar 1miss
Sol: 5' step Wand CLW on Clud
Camlo: Run! He's across the bridge
#3: 5' step to flank Clud Dog: 1hit 4dmg Auto trip? Nope! Gobbo: 1miss
#4: 5' out of flank Dog bite: 1hit 7dmg Trip? Fail. Gobbo: Can't attack - fail ride check
#2: Flank on Clud 1hit 5dmg
#10: shoot Cesar 1hit 4dmg
Cesar: 5' to Dog 1miss
Clud: 5' step out of flank, swing at dog #3 1miss
Sha: Run! She's across.
Chano: 5' step shock wand dog4 1hit 9dmg Dead! Gobbo falls 5dmg prone
#9 shoot Clud 1miss
Sol: draw rapier dog #3 1hit 1dmg
Cam: shoot #10 1miss 2hit 8dmg Dead!
#3: moves from flank to flank (goblins aren't too smart) Dog on Clud 1miss Gobbo #3? Yes 1miss
#4: prone stand up AOO from Cesar 1hit dead!
#2: move to flank Clud 1hit 6dmg
Cesar: on dog #3 1crit! 21dmg! Dog Dead! Gobbo falls and 6dmg. Prone
Clud: #2 1hit 6dmg 5' step
Sha: #2 1hit Dead #9 2miss
Chano: Move and ray frost #3 1hit 3dmg Dead!
#9: Ducks behind total cover of the tower roof and RUN AWAY!
Out of combat.
Solomon heal Cluddox 4. He keeps going for a few and gives Cesar one and Chano one as well. We're in the safe zone.
Cesar checks the double doors. He hears some goblins.
"Shh! Shh! Get ready. Shh! They may be coming!"
We get ready too.
Cesar and Cluddox will burst open the doors and let Camlo and Shalelu fire into the room.
Paul agrees to give us a +2 to our initiative for the "clever" plan.
BUT the door is barred… cue Sad Trombone.
Clud bursts the door for a normal initiative. (Cesar doesn't get his half of the double door open)
The floor of the room is hard packed soil. As if someone never got around to finishing it. Horse and dog heads line the walls as well as a pair of very large bat-like wings.
Camlo: shoot #2 1hit 7dmg Dead!
Cesar: move to #4 1hit 13dmg Dead!
Chano: Ray #7 1hit 3dmg
Sha: Happy with Cesar following the plan… NOT!  #3 1hit 6dmg.
Clud: move to #1 1miss
#1: on Clud 1miss
#5: move to Cesar 1hit 3dmg
#3: move to Cesar 1hit 4dmg
Sol: Move and hold
#8: move to Clud 1miss
#6: move to Cesar 1miss
#7: Can't get to us. Tumble past Cesar. Yes! Dogslicer 1hit 4dmg
Camlo: 5'step shoot #8 1hit 10dmg Dead!
Cesar: 5' step stab #6 1hit 6dmg
Chano: Ray #6 1hit 1dmg Dead!
Sha: Shoot #3 1hit 7dmg Dead! 2miss
Clud: Power attack #1 1hit 12dmg
#5 move to Clud 1miss
Sol: Move INTO doorway. Touch of flame on #7 1hit 3fire
Intimidates from us = they surrender.
We send them to the bridge. They run.
XP: 720 from bridge
XP: 408 first room
All 3rd level
Down the hall is an open door. Sha is peeking ahead. Do we search the room? Camlo is interested in the large wings. They are way bigger than anything we can think of.
K: Local: They look like harpy wings… Very poorly preserved. One of the daggers seems to have a very nice pearl handle. Cluddox points it out and we think it's about 100gp.
Shalelu recalls a harpy that lives up the coast… Gobbos and harpies apparently have it out for each other.
We go down the hall to the right looking for #9. The hall should lead under the tower. Looking inside we see a flight of stairs into a trap door in the ceiling. Table and dishwares under the stairs.. No value. Cesar takes a quick minute to search. Nothing.
Clud climbs the stairs. As we get close to the trap door Camlo hears a Wilhelm scream outside and when Cluddox pokes his head up he finds no one on the tower.
We go back to the door leading to the other tower. No traps, not locked. Swing it open. Short hallway to another double door.
Same routine. No traps. Not locked. Cesar swings it open. Similar tower structure. Stairs up. Door to the north. Clud runs up and checks quick. Nothing on the tower. Check the nearest door. No traps. Swing it open.
Dusty and dirty. Old dog poop smell. Double door across the room. Seem to go outside. We will come back to the outside doors. Move to the short hallway leading here. Door insde is nailed shut. Cesar listens and doesn't hear anything. We decide that is should be open.
Cluddox smash!
Storeroom. Filled with boxes and barrels. A hole in the corner of a barrel reveals a leaking of pickles onto the floor. We also remember seeing a few pickel butts on the tower top.
We move to the  leftmost single door in the first room. No traps. This is also stronger and more weathered. Leading perhaps to an exterior space. Move to the next door. It has a little more polish. Perhaps even having been cleaned. We open it.
A hallway with an actual rug! A little cleaner. The far side has double doors. A few torches burn. Door on the far side looks reinforced with brass handles. Search the whole room. Nothing interesting but we hear hushed murmurings from the big door which are soon cut off by some curt whisper.
The brass-knob door is locked. Cesar fails to pick it. X4. Fifth time's the charm. Cesar swings the door open himself. Again.
A large throne room decorated with may pelts. 4 stout timbers hold the room up.
The northeast corner supports a throne covered with dog pelts and a horse head is above the throne on the wall.
3 gobbos with horse choppers and studded leather armor.
In the back, a goblin dressed in studded leather is singing to herself
Cesar can see off to the side of the door, a goblin dressed in a rough crown, mounted on a gecko, hanging on the wall!
Init:
"You disturb chief Ripnugget! You die!"
Camlo: Shoot #2 1miss 2hit 6dmg
Cluddox: Move Swing at gecko. 1miss. Ripnugget rears the gecko for a miss! We're looking at a skilled rider here.
Spellcraft? We don't know what the singing is.
Sha: Shoot #1 1hit 7dmg 2miss
Sol: Move behind Clud. Cast burning hands on the 3 guards. 10fire full.
#1: to Sol 1hit 9dmg
#2: to Clud 1crit 18dmg
Rip: Withdraw from Clud up to the ceiling.
#3: to Clud 1hit 8dmg
Cesar: move to flank #1 1hit 12dmg Dead!
Chano: Move. Done
Camlo: Move into room shoot gecko. 1miss. It reared.
Clud: Spend pep. Power attack #2. 1hit 18dmg Dead!
Warchanter: Stops chanting. Cast Daze on Clud. Spend pep for good save!
Sha: at Chief 1miss
Sol: Heal Cluddox
#3: 5' to Sol 1hit 13dmg He's at 0!
Cesar: Move to #3 1hit 11dmg Dead!
Chano: Move to corner Ray of Frost on Chanter 1hit 3dmg
Camlo: Shoot Chanter 1miss 2hit 8dmg Dead!
Clud: Move and Demoralize at Ripnugget. Success. 29
Sha: move shoot 1hit 3dmg
Ripnugget: Charges along ceiling. Passing over Camlo he performs a ride-bye. 1miss.
Sol: Heal self 9hp. Back in the game.
Cesar: 5' Drop Katana. Draw Kusarigama. 10' reach!  Tries to "trip" Rip out of his saddle. 1miss
Chano: Ray at Rip 1miss
Camlo: Shoot X2 1miss 2hit 8dmg
Clud: Demoralize again.
Sha: Move under. Shoot straight up. 1miss
Rip: Charge over Solomon 1hit 8dmg
Sol: Wand on self. Move.
Cesar: Drop chain. Draw bow. On Ripnugget. 1miss
Chano: Ray on Gecko 1miss
Camlo: Move Close doors.
Clud: Demoralize again
Sha: 5' 1miss 2miss
Rip: Charge across Sol. 1miss
Sol: Move. Heal self
Cesar: Spend point for additional attack 1miss 2miss
Chano: Ray on mount 1miss It reared
Camlo: Shoot mount 1hit 9dmg 2miss
Clud: 5' step draw ax throw 1miss
Sha: To gecko. 1hit 12dmg 2miss
Rip: Charge Solomon. 1hit 10dmg Back to Zero!
Sol: Heal self. Move and drop prone. Ripnugget can't reach him.
Cesar: Shoot Gecko 1crit 12dmg Dead! Falls to floor.
Rip: successfully dismounts and then falls prone on his face!
Cesar: Drop bow pick up Katana
Chano: ray 1hit 3dmg
Camlo: drop bow 5'step draw sword chop! 1hit 10dmg
Clud: 5' step Power Attack 1hit 18dmg Dead.
Out of combat.
XP: 664 3rd level
Loot whore time.
Chief: 2 potions. Masterwork breastplate. Magic Horsechopper. Dented crown. Keyring.
Clud and Cesar takes the 2 CMW potions.
Commandos: Studded leather. MW Horsechopper. Wood Shield. Shortbow
Chanter: Potion. Wand. Studded Leather. Whip. Shortsword. Shortbow.
We split up the arrows. All small sized.
Search Throne: Constructed from body parts. Nothing of value to people.
Pillars: First. Impaled hands in decay. No value. The rest are the same.
South East door. No traps. Try the keys. One of them works. Door open. Hallway back to the East tower. Back to the two small doors in the first room. Right door? Not locked. Not trapped. Open. 6 poor bunks full of filth. Other door. Not trapped. Not locked. Open. Stairway down. Close it.
Door in the small hallway. No lock. No trap. Open. Terrible smelling butchery. Nothing is properly cured. And it's not all game. A few have all too recognizable features… Such as, y'know, faces.
Other side door in the throne room. Same steps. This is some sort of armory! With real tools and everything. All goblin sized. No magic. To the north door of the throne room. Locked. Try the keys. It works. Open it. Several large rugs of dog/horse hide. A large collection of horseshoes. A desk and bed looking fairly fancy before the dirt and abuse of a goblin chief. We search the bed, desk, and chair.
Under the pillow is a silver holy symbol of lamashtu. Hidden in the chair is a large iron key.
End there.
Paul PEPs
½ to Mike for the Wilhelm
½ for both Eric and Brian for tactics against the chief
½ for Brian wishing Shalelu would get some
Eric: ½ Kev for barbarianing ½ to Joe for taking chief punishment
Kev: ½ Mike for gecko kill ½ Joe for chief abuse
Joe: ½ Mike keeping us moving ½ Brian planing tactics
Mike: ½ Joe for just staying alive ½ to Brian for brave flank
Brian: ½ Kev for damage magnet ½ Joe for prone tactics
½ pep end 15*level XP
Mike is kind enough to empty basement trash for an extra pep. Thanks Mike.
We're all in next week.
This entry was posted by
kevin
and is filed under
Announcements
.
1 comment