And Then Nothing Bad Ever Happened Again...
Now this is not the end. It is not even the beginning of the end.  But it is, perhaps, the end of the beginning.
10/16/2016
Start!
Joe and Mike get a "hard work" pep for moving some fish's house.
1/2pep 15*level XP
We're standing in front of the trap.
The door at the end of the hallway opens… A large man appears. He looks over his shoulder and shouts, "Some of the gobbos are running up the stairs. I got this"
"Let's talk a little lower, shall we? My name is Orik from Riddleport. I'm sure you're here because of Sandpoint. Perhaps we could come to an agreement.? I've grown tired of this place. Don't want a fight and I'd like to leave here with all my limbs."
Us: That sounds reasonable.
Orik: I would have a few expenses in getting myself back home. How about 20gp? Should be reasonable for you to afford after dealing with the goblin king and finding his treasure hoard.
Us: Treasure Hoard?
Orik: Oh! You didn't find it?
Paul has us roll a bluff but we're pretty sure we DON'T remember finding a giant treasure.
Cesar: We could buy info instead? Will you talk?
Orik: 20gp for information. She spends most of her time trying to contact whatever is talking to her. Claims it will lead her to Lamashtu and make her a general with the power to attack Sandpoint. She has a couple of those dogs.  5gp more for the trap reset. The other way is a crypt. Never been down here before the alarm today.
Solomon counts out the coin and Orik disables the trap. We cautiously walk past each other and he wishes us well.
XP: 3rd 128, 4th 112
Cesar steps onto the trap… Nothing. He's safe. He also finds the small panel that disables the trap. We move up. Cesar checks the door. Solomon tries stealth to cast a detect magic spell. As Solomon casts his spell, Cesar notes a snarl from behind the door and he hears casting.
Cluddox and Cesar switch places.
Cluddox swings the door open!
A recently killed goblin is oozing blood and dark energy swirls from his body into the woman inside.
A beautiful woman, with empty eyes, a scarred belly, and one arm burned like a demon talon. The other hand holds a bastard sword. "You will not stop me."
Init.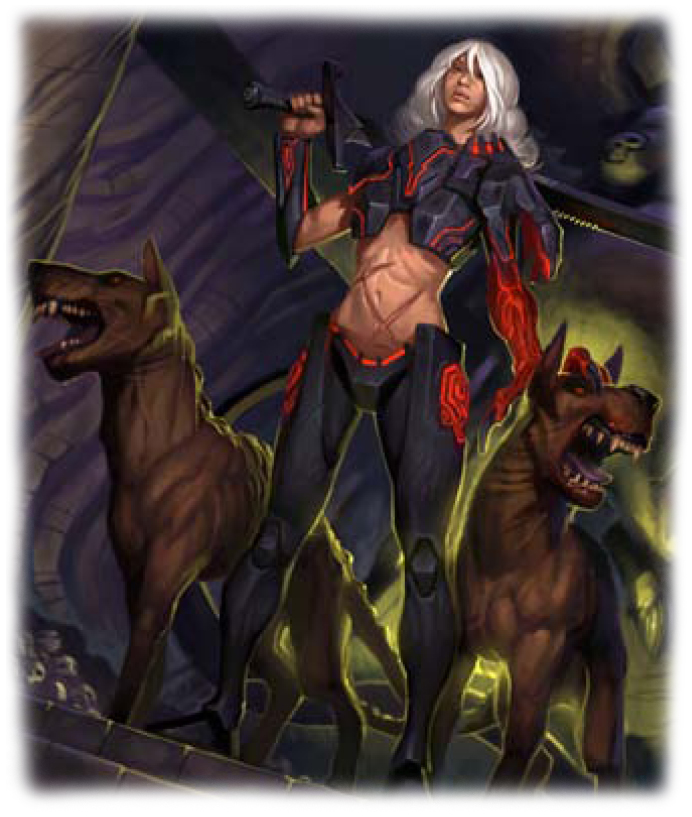 We note some sort of glow about her. Magical, spelly, aura, thingies. Clud no do magic.
Cesar: moves into the room behind Nualia. Pep Stab. 1miss
Camlo: Move to doorway and shoot. Pep 1hit 11dmg
Y1: Howl. Peps around the table. Cesar fails again. Panicked.
Chano: Move up. Notes a fountain on the north side. Lit by torches. Scrolls and things around the room. He notes a deflection spell on her. Shocking grasp. 1hit 15elec She doesn't seem to take it all.
Sha: Anyone object to me opening the other door…? No objection. Just another door behind it. Phew! Ok, she's in line to fire.
Nualia: 5' and swing and a claw on Cesar. 1hit 13dmg 2miss "Sandpoint Heros." She doesn't say that with respect...
Y2: Howls. 5' to the doorway. Sha is panicked.
Cluddox: Delay for Camlo to move.
Solomon: Ready to stop Sha's flight. Ready to grapple
We pause to go outside for the Flyover. Vroom!
Cesar: Cower. Squeeze in corner. Total Defense
Camlo: Steps to the back of the line. Shoot Y1 1miss
Y2: Cesar 1hit 9dmg
Cluddox: step up swing 1miss
Chano: 5' step. Glitterdust into room. Will save DC:15 Y2 looks blinded!
Sha: Drops her bow and does Chano move out of her way? Nope. She cowers there.
Nualia: Moves to the side. Casts CLW.
Y2: Blind bite 1miss
Sol: Sha doesn't approach so move up to the line.
Cesar: Bleed? He's stable
Camlo: Shoot Y2 X2 1hit 8dmg 2hit 9dmg
Clud: 1hit 18dmg Dead. Move to Nualia
Y1: move to flank 1miss
Chano: Lazor Y1 1hit 3cold
Sha: Cower Total Defense
Nualia: Swing at Clud 1hit 14dmg 2miss
Solomon: Try to pass Y1 Tumble: Fail. Y1 AOO: Miss. Try again? Nope. That's two moves.
Cesar:
Camlo: Shoot Y1 X2 1hit 6dmg 2hit 7dmg
Clud: At Nualia Rage Power Attack Pep 1hit 19dmg 5' step out of flank
Y1: move to flank Clud 1miss
Chano: Ray on Y1 1hit 2cold
Sha: Cower
Nualia: 2hand bastard 1hit 14dmg
Sol: Move around the edge to Cesar. Heal check. Good. He's not bleeding
Cesar:
Camlo: Move up Shoot Nualia 1hit 6dmg
Clud: 1miss
Y1: 1hit 5dmg
Chano: ray 1hit 3dmg Dead!
Nualia: 2hand 1hit 21dmg Clud is down! She moves to Solomon
Sol: Touch of flame. 1hit She takes no damage.
Cesar:
Camlo: Shoot a bitch. 5' and 1hit 10dmg 2hit 9dmg
Clud: Stable
Chano: Ray of Frost 1hit She takes no damage
Sha: Cower
Nualia: 5' 2hand swing on Camlo As she steps she speaks a few words and blackness creeps along her blade. Chano notes she's invoking Lamashtu and some form of deformity. 1hit 16dmg and fort save: Camlo fails. Horns blossom out of his head!!! -1Charisma "You will die here!"
Solomon: Move and +5hp Cluddox
Chano: shoot 1hit 9dmg 2miss
Cluddox: Delay
Chano: Cast from staff. Magic Missile. 8dmg. She drops.
Out of combat.
Cluddox flattens her head. He enjoys it a little too much…
Solomon brings Cesar back to the land of the conscious. Chano harvests the hounds.
A wide stone ledge of marble rings the room lit by burning skulls. 3 chairs. The ledges are filled with an alchemist's wet dream. The fountain to the north peacefully bubbles.
Super search of the room: Several things.
Her own personal journals and notes: We come to better understand her background. She was always possessed of unearthly beauty. Perhaps even touched by the upper planes. Known as an aasimar. She was left at the door of Father Tobin. Her childhood was lonely and sad. The other children were cruel, as children often are. The adults, frankly, were not much better. The superstitious Varisians thought she was walking spell component factory. Thus when the boy named Delek Viskanta began to court her she practically fell into his arms. Father Tobin wanted her to remain pure for service in the church so the kids kept their relationship secret. Nulia soon she discovered she was pregnant and when she told him, Delek shamed her and fled Sandpoint. When Father Tobin found out he shamed her even more and held her at the church forcing her to pray.
5 years ago, Nualia describes an event where she felt her anger flare to life more than ever before. 7 months pregnant, she flew into a frenzy and miscarried. The horribly deformed newborn was seen only briefly before the midwives stole it away and burned it.
Losing a child and finding out she was carrying a fiend led to shock put her in a coma. Nualia's dreams caused her to become obsessed with Lamashtu and showed her how to expunge the holy blood she now hated and become full of chaos. Blaming her horrible life on those who mistreated her, she lit the church on fire, with Father Tobin locked inside, and fled Sandpoint.
First she went to Magnimar and met a group that encouraged her faith; The skinsaw men. They helped her track town Delek and kill him. But that revenge wasn't enough and she turned back to Sandpoint. She returned to Sandpoint to plan its destruction and was drawn to the smuggler's tunnels where she first became pregnant. Discovering the walled up temple she met a quasit named Erylium and learned from it. She had a vision of a monstrous goblin wolf trapped underground.  It would help cleanse her celestial taint and destroy Sandpoint...
An outline of the plans to send an army of gobbos and burn Sandpoint to the ground. Also instructions to fuel something called a Runewell, She doesn't know how to reactivate it once it becomes dormant.
The strange artwork and carvings don't have any value. She personally has a +1 breastplate, +1 bastard sword, medallion with a sihedron rune. MW composite longbow, 20 arrows, gold holy symbol to lamashtu worth 100gp, 70pp, 20gp
The fountain gives off magic auras of faint divination. No secret compartments or anything. Nothing inside. Spellcraft detects no taint of Lamashtu. Perhaps something to do with the original statue that this room once was a part of . We're not sure.
Chano takes a gulp of the water. Through a heavy fog, he finds himself looking out over the Varisian Bay with a strange tilted perspective. Not very insightful but interesting.
Camlo is increasingly concerned about the horns. Chano remembers a passage about deformities caused by the followers of Lamashtu. He doesn't think it's permanent…
XP: 3rd 440, 4th 404
We finally wind down from the day's chaos. We pick the nice rooms and set up a normal watch cycle. No one sleeps in the bugbear's room. Late in the evening, after iron rations, we notice the horns are no longer on Camlo's head.
Paul takes each of us aside, one at a time...
As we rest and sleep we each come to certain (perhaps disturbing) realizations about ourselves and how we each faced the extreme events of the day.
7:00am Sept. 30th
Spells prepared. Levels leveled.
What's the plan? Go to the tomb door. No traps. No locks.
Cluddox opens the door. Hallway is wider. Ancient stone again. Heads south and east. A decorated gold pillar. A circular carving resembling an immense stack of gold coins. Cluddox steps in. Cesar search sees no traps. It's not real gold. It's an illusion. The edges are carved with spiky runes. Camlo looks south. Ends at a pair of stone doors with carvings of two skeletons reaching out to clutch a skull between them. Cesar checks the skeleton doors. No traps. No locks.
Cluddox grabs a skeleton and pulls.
Four pillars support a domed ceiling. Several alcoves holding standing sarcophagi. A statue of a stern man holding a glaive and a book at the far end of the room. We still don't know who it is.
Cesar 5' checks the floors. As he gets close to the statue, the very shadows themselves come alive to attack. Solomon and Chano note they are undead shadows. Incorporeal is immune to crits and precision damage. Positive energy turns them. They cause strength damage. Anyone killed by them becomes a shadow in seconds.
Init.
Camlo: Shoot #2 X2 1hit No damage 2hit No damage
#2: move to Clud 1hit 2str dmg
Cesar: quickdraw wand. 5' UMB Pep He activates the wand! 1miss but he still has the charge
Sha: I'll use my wand if no one else wants it?
Clud: Start digging for Nualia's Bastard sword. 2 rounds...
Sha: Throws her wand into doorway. Shoot #4 1hit 4dmg (her bow is magic)
Sol: 5' and magic weapon Clud's hammer Pick up Sha's wand. 34 charges
Chano: Wand MM on #4 3dmg
#5: through wall to Cesar 1hit 5str
#2: move flank Cesar 1miss
#3: to Cesar 1hit 1str
Camlo: Drop bow Draw sword on #4 1hit 5dmg
#4: to Clud 1hit 1str
Cesar: Touch #2 1miss Invisible. Move to hallway.
Clud: on #4 1hit 5dmg
Sha: Shoot #4 1miss 2hit 5dmg Poof!
Sol: Move to #1 1hit 9dmg
#1: back to Sol. 1miss
Chano: MM on #5 5dmg
#5 for Camlo 1hit 6str
#2 for Clud 1miss
#3 through the wall to behind Cesar.
Camlo: #5 1miss
Cesar: #3 1hit 6dmg
Clud: #1 1hit 4dmg
Sha: 5' and shoot #3 1hit 4dmg 2hit 4dmg
Sol: wand 1miss spell still active
#1 for sol 1miss
Chano: MM on #3 5dmg Poof!
#5 for Camlo 1hit 6str
#2 for Clud 1miss
Camlo: withdraw down hallway
Cesar: Try UMD Nope
Clud: #1 1hit 5dmg
Sha: #2 1hit 5dmg 2hit 2dmg
Sol: Touch #1 1miss
#1: Sol 1hit 2str
Chano: MM on #2 4dmg
#5: on Cesar 1hit 5str
#2 on Clud 1miss
Camlo: move
Cesar: withdraw
Clud: Rage #1 1hit 8dmg
Sha: 5' on #5 1hit 3dmg 2hit 2dmg
Sol: on #2 1hit 9dmg
Chano: MM on #5 2dmg
#5: on Clud 1miss
Camlo: Lean on corner and pant!  ½ pep nice roleplay
Cesar: Try CMD Success. 5' step
Clud: 1hit 10dmg Poof!
Cesar gives the heal to Chano
XP: 3rd 640, 4th 568
Dinner.
Take 20 search. We're looting the shit out of this room. The Sarcophagi on the east wall is fake. Secret door! A lever slides the whole thing down into the floor. Cesar pulls the secret lever.
Passage heading north and some stairs down. Cesar checks for traps.
He moves up the passage to another door. No traps. Not locked. Cluddox moves to the door. Solomon peeks down the stairs. Open!
The sloshing of waves reveals the western wall has crumbled away. Years of damage. The room is empty but for some rubble. The water is only 15' or so below. Some kind of tide pool. Bits of wall from some old room. Carvings on some of the broken walls. Under the surface of the water reveals what must have been an awesome treasury. Shattered urns, rusted treasure chests, and mouldy sacks. A large coral encrusted helmet almost 5' across. It appears to be made of gold.
A quick search reveals nothing in the room.
We think the stairs might lead to the room. We head down. Door at the end. Cesar checks and a switch with Cluddox to force the wet, warped door.
Cluddox tries to shoulder it with his reduced strength. Nope. We switch and Shalelu puts her full 18 Strength shoulder into the wet door. Boom!
We are at the level of the water. Cesar gets a better look. Impressive carvings of great treasures. A towering mountain it's peak is a face looking over a city with a tower of spires.
In the water, the giant helm rotates and begins to look at us! Spindly legs poke out and we see a monstrous hermit crab!!!
Init
Sha: Shoots 1crit 20dmg! 2miss
Camlo: Move to upper room
It: to Chano 2 claws 1hit 10dmg 2hit 5dmg Improved grab Grapple success Chano is grapple.
Sol: Delay
Chano: Casting Concentrate? Nope. Spell fail
Cesar: 5' step closer. Blink. Stab. 1miss
Cluddox: Double move to monster
Sha: Shoot 1hit 3dmg to Chano 2miss
1/2pep eric for pointing out chano's chance of damage
Camlo: Shoot 1miss
It: Pinch? Yes 9dmg to Chano
Sol: Move to Chano. Touch AC? 4HP
Chano: Nothing to do Delay
Cesar: Swing 1miss
Clud: Rage 1hit 17dmg
Sha: Shoot 1miss 2miss
Camlo: Shoot 1miss
It: Squeeze 12dmg Chano is limp. It drops him.
Sol: Heal Check? Cast defensive. 9HP to Chano. He's back up.
Cesar: Stab 1miss
Chano: Shocking grasp. 1hit 16elec
Clud: 1hit 17dmg Dead!
XP 3rd 256, 4th 228
Back to the K: History check. Don't recognise the city.
Harvest the crab. 7HD. And cook it as well. Chano is eating seafood. It tastes like revenge.
Cluddox tries to lift the giant helm. Nope. 300lbs. We think its worth about 500gp!
We contiune to lootwhore the waterlogged treasure. Nothing of value is found in the centuries old garbage. A tunnel, underwater, and seemingly leading to sea is blocked by old items. We don't try to traverse it.
We're looking at heading back. We head to the surface level. Cluddox grabs a hooded lantern. As we come up the stairs we notice the privy has been smashed and a room behind reveals an empty chest that has been left open.
We approach the caged horse. Cluddox calms the horse down. We think it's the horse that was missing from the noble. Solomon heals its wounds but it is still starving and exhausted. Cluddox takes the horse and heads for the bridge. Cesar reinforces this side of the bridge. Shalelu head back to take Chief Ripnugget's head. No one objects. Cluddox has a little trouble getting the horse across. So we wait awhile and he gets the horse across after lunch. Chano grab some pickles for us and grains for the horse. Last one to cross, Solomon lights a torch and tosses it atop one of the towers. We don't see a massive blaze start up behind us, but he feels some satisfaction anyway. We make it through the thistles. Looks like nothing has been here. Nothing bothers us, either. We find the main road and head back to Sandpoint!
Sandpoint greets our eyes about 5pm.
There are 6 guards at the northern gate! Many of us notice 3 guards have an air of seasoned mercs. Sha's ready for a rest. We inform the guards of our mission and head to our respective inns. We leave Shalelu at the White Stag and head to the Goblin Stables to rest the horse. Finally we head to the Rusty Dragon to see if the Merchant is still there.
Chano picks up that there are 20 seasoned vets added to the guards courtesy of Cluddox's old pal, Aldern Foxglove.
We're in during rowdy time at the Dragon. Chano asks for the special. Amieko brings out lobster. Camlo heads to bed. Cesar is in a corner. Solomon joins him. Clud asks about the reward. Ameiko states it's still up.
Cesar spills to Ameiko about Nualia. Ameiko is understandably awed. "Let's just put it all behind us."
The rest of the evening lapses into stories. Lots of people are interested in buying us a drink. Cluddox holds his liquor (and thus his tongue) for the night.
Sept 31
Heal 1pt ability damage.
First the merchant comes to visit. He gives us 500gp for a reward. Shalelu comes in the morning.
Camlo's up early so we go see Mayor Deverin and Sheriff Hemlock. We exposition on the Thistletop goblin tribe and about the dungeons below them.
"Sandpoint owes you a debt of gratitude! Please take 250gp from your unused healing fund!"
"Tsuto will be tried in Magnimar. Seems like everything is back to normal."
Deverin talks to Shalelu and Solomon overhears her grudgingly congratulate Shalelu on not getting a bunch of young men killed. ...again.
Cesar heads to the church to tell our tale to Father Zantus. He seems concerned about how Nualia turned her back on her own Celestial heritage. He doesn't think it was her choice. He asks how Cesar came out after the wrathful experience. Cesar admits to not feeling comfortable in the light. Father Zantus asks if Cesar wants to pray with him. Cesar "gives it a shot."
Cesar spends some time with Zantus reflecting on himself. No revelations yet, but Zantus invites him to keep coming back.
He decides to hit the House of Blue Stones on the way home. Sabyl recommends solo meditation. But it's about the same application so no new revelations just yet.
XP: 10 Cesar.
Cesar ding!
We identify and split loots.
Shalelu trades us her wand CLW for the Cloak of Resistance. She'll be leaving us soon... 
As a side note, the Paladin, Sir Jasper Korvaski, can store our gold at the League
To the Feathered Serpent. We try to sell our loots. Items currently on hand at the Serpent:
Wand MM 1st level Full
+1 Greataxe
Pale Blue Ioun stone. 8000gp and he doesn't do payment plans.
Vorvashali Voon: "Anything you have for me?" Us: +1 Horsechopper and small +1 armor
We fail to convince him to up the value. Do we sell them for normal half value?
We'll end it here.
Paul PEPs
Kevin: ½ for frustration on kill steal
Joe: ½  for wand undead
Joe: ½ for trying to burn down fort
Brian: ½ for pickles
Mike: ½ for dark corner
Kev: ½ for carry your own shit, now
Brian: ½ for you didn't' help me choose spells
End ½ pep 15*level XP
Joe: ½ Mike for shadow fight ½ Erick for bow work
Eric: ½ Joe and Mike for creative wand usage
Mike: ½ Kevin for awesome combat ½ Joe for undead solutions
Kevin: ½ Brian for good wizarding ½ Joe for good Clericing
Brian: ½ Joe for wand ½ Joe for mocking Nualia
We're all on next week.
Kevin plans out on the 30th.
This entry was posted by
kevin
and is filed under
Announcements
.
1 comment
450 exp Thanks for the pics