A Heroic, Last-Minute Save Makes for a Better Story Anyway.
Tis said that wrath is the last thing in a man to grow old.
9/18/16
5:00 We start.
1full pep for late 15*level XP
She seems dismayed that the energy glow from the pool dims from her use…
Init!
Cesar: Draw bow, shoot 1miss
Camlo: shoot X2 1miss 2miss
#1: climbs out
#2 climbs out
Clud: move in and ready to attack
Chano: Move to doorway
She: Spellcasting type thing and POOF she's gone.
#3: climbs out
#4 climbs out
Sol: Heal check on Cam. 90%ish CLW wand
Cesar: Shoot #2 1hit 5dmg
Camlo: Shoot #2 X2 1miss 2miss
#1: Move to Clud His ready goes off 1hit 12dmg Chano ready: 1miss
#2: Move to Cesar
She: we hear her casting! Spellcraft? We don't know what it was.
#3: double moves down to Clud. Aoo: Clud rolls a 1
#4: double move to swarm Clud with the others
Solomon: Heal check on Cesar fail. Heal check Chano: 85%
Cesar: Drop bow, draw sword, move. Make for the kidneys. 1hit 15dmg
Cam: Drop bow, move/draw +1 sword, draw shield
Clud: Rage swing at #4 1hit 16dmg it's down!
Cesar: ray of frost at #2 1hit 3dmg
#1: at Clud 1miss 2hit 2dmg 3miss
#2: on Camlo 1miss 2miss 3miss
We hear casting! She's visible. With a shield of faith spell around her. Shatter on Cluddox's ancestral hammer! Kev peps to roll a 22. Cluddox is really pissed now.
#3: 5' on Cesar 1crit 5dmg 2miss 3miss
Sol: 3heal to Cesar
Cesar: tumble to flank #3 and 1hit 10dmg
Camlo: on #2 1hit 6dmg
Clud: on #2 1miss
Chano: on#2 ray of frost 2mg
#1: full on Clud 1crit 8dmg 2miss 3miss
#2: 5' on Cesar 1hit 4dmg 2miss 3hit 1dmg and furey! Will save: fail… Rage! Wrath! Anger!
Cesar is effectively sickened!
She: Disappears
#3: Clud - 1hit 2mg 2miss 3miss
Solomon: tumbles to Clud and 9 heal!
Cesar: stab #3 1hit 7dmg It's down! Tumble away from #2
Camlo: 5' to #2 1hit 8dmg
Clud: to #1 1pep 1hit 19dmg Down! Move to Camlo
Chano: move to #3 and make sure 1hit 7dmg
#2 on Cam 1miss 2miss 3hit 6dmg and will save is good. No rage.
We hear casting! Chano spellcraft: Monster summon II
Us: Shit!
Sol: 8 points to Cesar. Happy wand magic. Heal check on #3. Still breathing. #1 is super dead.
Cesar: move to edge of fountain at #2 1miss
Camlo: 5' to #2 1miss
Clud: unrage move to #3 and squish him on the ground
Chano: can't tell if #3 is official So, coup de grace.
#2: on Cesar 1crit 7dmg 2hit 2dmg 3hit 5dmg and save… 2peps for fail! And his rage effect staggers him. The damage staggers him too, so… whatever.
Her: we hear the casting complete, Fire beetles! (they seem fiendish), and she begins casting again.
Beetles: #1 and #2 on Chano 1miss 1hit smite good! 5dmg #3 on Solomon 1hit smite good 4dmg
Sol: Draw rapier stab #3 1miss
Cesar: withdraw away from #2 through the pool. Nat 20 tumble. He's away
Camlo: at #2 1hit 8dmg dead
Clud: at #B2 1crit 23dmg dead 5' step to B3
Chano: #1 with quarterstaff 1hit 5dmg
Her: spell complete Fire beetle #4 on Chano 1miss She appears and casts Bane! Will save. Everyone saves!
#B1 1miss
#B3 solomon 1crit 5dmg
Sol: on B3 1hit 3dmg
Cesar: drop ;sword draw cool chain thingy
Camlo: make sure on #2 1hit 11dmg 5'step to B1
Clud: on B4 1hit dead 5' step
Chano: on #1 1hit dead
She: flings a dagger at Cesar 1hit 2dmg he's down
B3 on sol 1hit 4dmg he's down too.
Camlo: Move to dropped bow pick it up
Clud on B1 dead move to Cesar
Chano: Ray frost 1miss!
Her: moves to corner and flings at Chano 1hit 1dmg
Sol: stable
Cesar bleed
Camlo: 5'step shoot da bitch 1miss 2miss
Clud: heal on Cesar… spend 1pep for a fail!
Chano: ray 1hit 2dmg
Her: Dagger at Chano 1hit 2dmg
Sol: stable
Cesar: bleed
Camlo: Shoot her 1hit 11dmg. Doesn't seem to feel all the damg.
Clud: manages an 18 to stable Cesar
Chano: ray 1hit 3dmg
She: Tiny dagger at Chano 1hit 1dmg
Sol: stable
Cesar: stable
Camlo: shoot 1hit 10dmg not all of it
Clud: draw ax, throw ax, 1miss
Chano ray 1miss
She: dagger at chano 1hit 2dmg
Sol -
Cesar -
Camlo: 1miss
Clud: draw spear, throw spear, 1miss
Cluddox not so good at throw things.
Chano ray 1hit 2dmg
Camlo notices she's healing a little.
She hisses at his words of advice and turns invisible. "Leave here!"
Camlo: Closes the doors. With us still in. OK, then.
Clud: belts his hammer and grabs the ranseur from Cesar
Chano: move to center ready to shoot
Clud: move up to top and ready to stab with ranseur
We wait a few rounds and she finally appears!
Ready actions: Camlo: shoot 1miss Chano: lazer 1miss
She flings at Solomon! 1hit 1dmg he's bleeding again.
Clud double move to doors.
Camlo: 2shots 2peps 1hit 11dmg 2miss
Chano: Stands bodily over Solomon and cast color spray at Her. She fails her save! She's blinded and stunned for a 4 rounds. She drops her dagger!
She: Paul rules that being stunned she can't keep flying and falls to the floor at our feet.
We bludgeon her into paste and even remember to re-bandage Solomon.
Ow…
We collect our shite. Chano carves her up. On her body is a tiara, silk gown, unholy symbol of lamashtu. All tiny. We pick up the dagger as well.
25 search of doors: no traps or locks. Not very big like the main door. The skull fountain is well made. Ornate, polished and well maintained. Never really meant for water. Nothing weird. Weird-er. Super weird. Whatever. The top fountain makes us feel angry and uneasy. The bubbling water gives off no heat. No strange runes or markings.
K:Arcane/History: Writings on some mythic devises of Thassilonian make talked about a "rune-well" that apparently absorbed wrathful souls. We don't know many more facts. Chano casts Identify: He learns that if a creature with a wrathful soul dies within a mile of the pool the pool gains "wrath points" and the pool can produce Sinspawn. He believes the pool has 16 wrath points left. Any living creature that enters the water will receive cold damage and be overcome with wrath.
XP: 2nd level 1248
What do we do time…
The two down haven't become stable yet. We're thinking that staying isn't a good idea. We wait an hour or so to see if they become stable. Solomon is awake and so is Cesar. Solomon heals himself first then Cesar.
We stumble to the Glassworks basement. The guards are impressed at our wounds and disheveled state. We tell them to go upstairs and lock the doors to the basement. Cluddox grabs any full bottles from Tsuto's makeshift bedroom. We're gonna need them.
News travels fast of our bloody emergence and we are soon beset with questions. We politely decline and head to rest.
In a few days we meet with the mayor. We exposition in her face and she is worried. She offers another 300gp of healing. She's going to try to keep the town's spirits up with word of our success. She asks us to make ourselves seen to help the town feel safe.
We try selling loots but Sandpoint's GP limit is 800. We consider the specialty shops. The Feathered Serpent awaits. We try to sell him the tiny dagger. He's interested… The thinky people negotiate while the fighters stand around and try not to touch things. We can't talk him into a good price so we just hold onto it for later sale.
Selling loots nets a 75gp split for each of us.
Sir Jasper Korvaski comes to visit us. Paladin of Abadar from Andaran. Jasper is in charge of the Mercantile League. The families no longer make day to day decisions and leave the details to clercs and such.
"The reason I'm visiting is there are things Ameiko now needs to make decisions on behalf of the League. She has entrusted me to make many of those decisions. You all are very influential in regards to her family. She has also asked that some of the family's holdings be shifted to you."
He invites us to the Hagfish in order to size us up. We're getting the idea that the money transfer is going to be way more than we ever thought. Time for some good Diplomacy rolls.
Paul assigns us some circumstance modifiers and a little RP opportunity; and we roll.
Jasper relates that Ameiko has shifted 1,000gp to our efforts! The League itself hands out a further stipend to each of us.
Camlo 50gp
Chano 100gp
Cesar 80gp
Solomon 300gp
Cluddox 150gp
Sep 17th
We head out to the Kaijitsu manor to see Ameiko. She seems most interested in finding out if the new tunnel area has anything to do with Tsuto and the goblins. She doesn't seem interested in the League and the Glassworks. We relay info but don't have any "why's" yet, so this is mostly a social visit.
We take the 1000gp and get a second wand CLW and each party member gets one potion CLW.
Back to the dungeon. In the temple the two side doors are empty storerooms.
The stairs down lead only a few feet and they're collapsed. No way down.
The straight stairs leading up open into a room with water rippling quietly in a round pool. A door across the room leads out. It's open. Stairs heading further up. Blood is smeared on the pool.
As we enter something screeches from the ceiling and attacks.
A large human head with bat wings! Out of the neck hang bits of what may have been the gusts of the creature. K:planes. Nope.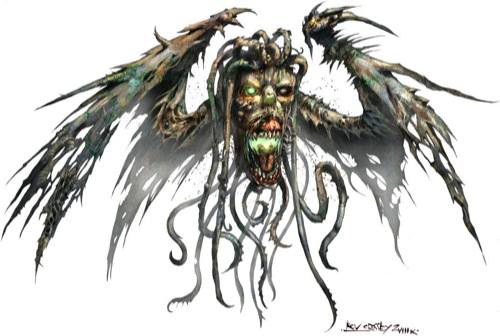 Init.
Surprise Round:
Camlo: surprised
Cesar: 5' step swing 1hit 16dmg
Chano: surprised
Solomon: Move up
Clud: surprised
Head: Shrieks! Fort save vs fear or paralyze. We all good. It flies around and our AOO's miss.
Full Round:
Camlo: moves up the stairs and shoot 1hit 11dmg
Cesar: swing 1miss
Chano: move up can't see it.
Sol: move and swing 1miss
Clud: move up and swing 1miss
Head: bite cesar 1hit 3dmg and poison save: Fail. It moves
Our AOO's Cesar 1hit 4dmg it goes down!
Chano notes this is a Vargouille. Fortunately the poison only affects the damage from the monster itself.
XP 2nd 200
XP 3rd 200
End ½ pep 15*level XP
Paul PEPs
Brian for color spray save at end
Joe for healing
Joe for making sure the sinspawn don't regen
Eric: ½ brian color spray ½ to mike for soaking the damage
Kevin: ½ brian endgame ½ joe healing
Joe: ½ brian for human shield ½ kev for hits
Mike: ½ brian for save ½ kev for saving Cesar
Brian: ½ mike rp rage ½ joe for the paladin
Next week. Mike is late but we start normal. We know the below is clear. What would Cesar vote next? Nothing vital to him so we play it by ear.
This entry was posted by
kevin
and is filed under
Announcements
.
1 comment